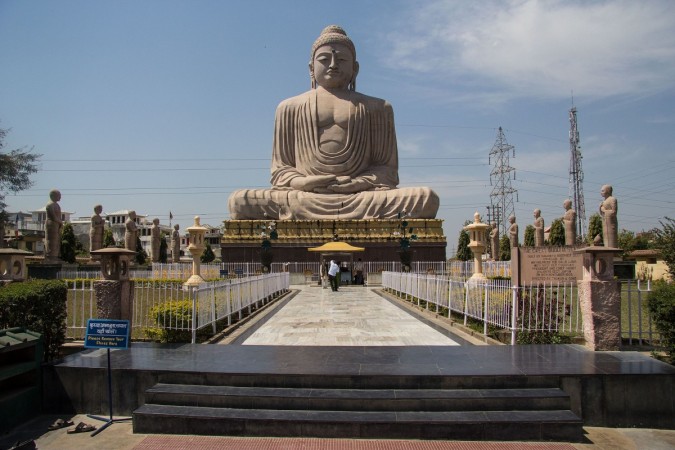 China has dismissed the Buddhist event in Bodhgaya, to be attended by Dalai Lama, as a political tool and forced thousands of Tibetans to return to China.
Also read: China would help Pakistan in building nuclear arsenal if India doesn't cool "missile fever"
"Taking advantage of the presence of the Dalai Lama, the Kalachakra (wheel of time) teachings have inveigled Tibetans into illegally going abroad over the last decade," Zhu Weiqun, chairman of the Ethnic and Religious Committee of the Chinese People's Political Consultative Conference, told the Global Times on Thursday.
The 34th Kalachakra initiation at Bodhgaya in Uttar Pradesh, where Buddha is said to have attained enlightenment, will be attended by tens of thousands of pilgrims from across the world.
The chairman of the organising committee Karma Gelek Yuthok said that almost 7,000 pilgrims were forced to return to China due to pressure from authorities.
The pilgrims reportedly received threats against their relatives in China if they did not return, said Yuthok, member of Tibetan government-in-exile. They were reportedly forced to return before January 3, before the Dalai Lama began his teachings.
Beijing has reportedly never before imposed such harsh travel restrictions, the TOI quoted the Tibetan government-in-exile as saying.
Many Tibetans' passports have been confiscated by Chinese authorities since November 2016. The Nepali media has also reported that China allegedly imposed a temporary travel restriction against its citizens visiting Nepal and "asked its travel agencies and airlines to cancel all travel plans and bookings made until January 10, with immediate effect".
"Distance cannot dampen the sacred ties between a lama and a disciple. You can all pray from the far-flung areas in Tibet and I assure you that you will receive the Kalachakra empowerment," said the Dalai Lama, who arrived in Bodhgaya on December 28.
"The government by no means threatened them into returning, although the government does not encourage them to attend the ritual," Xu Zhitao, deputy director of the bureau of the Tibet question at the United Front Work Department of the Communist Party of China Central Committee, told the Global Times on Thursday.
He said many of the attending pilgrims hold Chinese passports.
"Considering that the large-scale ritual needs years of preparation, the India-based ceremony frequently degenerates into a political tool," Zhu said.
He said that the organising committee has made use of the occasion to meet the Dalai Lama to propagate ideas of "hating the Chinese government".