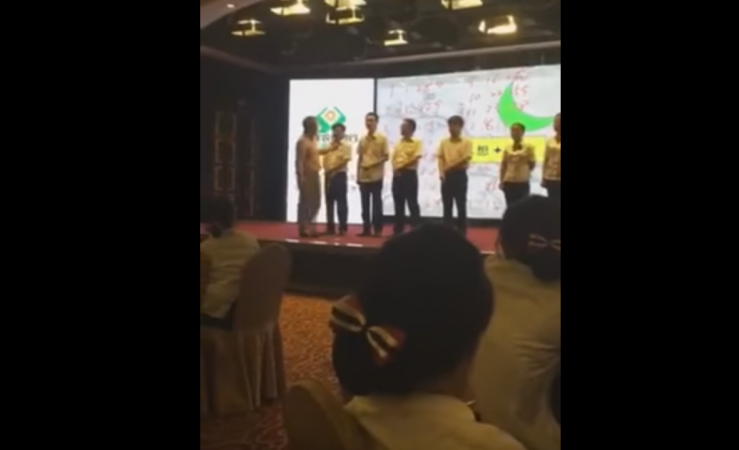 A video doing the rounds on the Internet of eight employees of a bank in Changzhi, China being spanked by a trainer has shocked and outraged people in the country and beyond. Two executives of the Zhangze Rural Commercial Bank have been suspended after the video was posted by the People's Daily China publication on Monday.
The Shanxi Rural Credit Cooperatives Union confirmed the authenticity of the video, and said that the incident took place on Saturday during Zhangze Rural Commercial Bank's performance training for 216 members of its staff. Another employee told the Beijing Times on the condition of anonymity that 16 other employees were forced to shave their heads as punishment, according to the South China Morning Post.
The eight employees, including four women, are repeatedly spanked by the trainer on stage in a public event of the company for not "exceeding themselves." The employees were initially admonished for under-performing, and then are forced to give a reason for lagging. The trainer then says "get your butts ready," goes behind the employees and hits them with a thick stick.
Among reasons given by the eight employees are "failing to make a personal breakthrough" and "inadequate team cohesiveness," according to the SCMP. A woman on the far right covers her behind after which the manager says, "take off your hand!" and hits her again.
The video, reportedly taken by a phone camera, has caused widespread outrage since it surfaced online.
"Can't believe this is happening in China right now! This is horrible," said a Facebook user on People's Daily China's page.
"I want to chop that fucking manager into pieces. Kill him instead of killing dogs in dog eating festival," said another Facebook user.
The trainer, Jiang Feng, a coach with the Shanghai Hongfeng Leadership School that was hired for the two-day training, later apologised in a video for hitting the employees.
"This incident also offered a great lesson to myself, that it reminds me I should improve my teaching methods," he was quoted as saying by CNN.