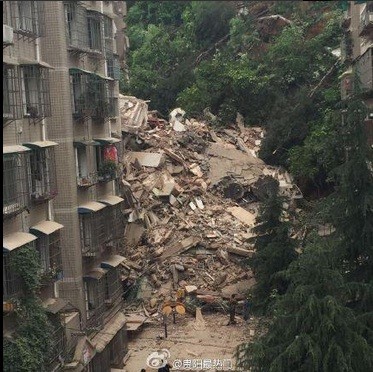 A residential building in China's Guizhou Province housing 35 families came crashing down on Wednesday, and trapped several people in the debris.
The nine-storeyed building in Guiyang collapsed after a landslide, China Central Television reported, while other reports suggested that heavy rainfall had caused the building to come crashing down.
Ninety-three people of the 114 residents of the building were said to be safe, while 21 people are still missing. No casualties have been reported yet.
The incident occurred at 11:30am local time, according to Xinhua.
Photos from the collapse showed the nine-storeyed building reduced to rubble within seconds, as some locals were able to capture the chilling images.
China's People Daily posted pictures of the moments when the buidling came crashing down.
The residents of the nearby buildings have been evacuated.
#BREAKING Resident building collapses due to landslide in Guiyang, Guizhou Province on Wed., no casualties reported pic.twitter.com/6umRcCNNcS

— CCTVNEWS (@cctvnews) May 20, 2015