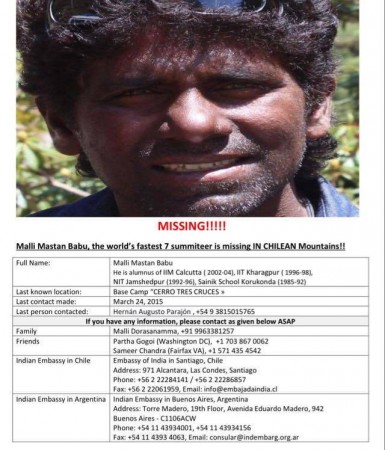 The Chile government has approved aerial search operations to locate and bring back India's fastest mountaineer Mastan Babu Malli who went missing last Wednesday while climbing the mountains between Chile and Argentina.
A helicopter search will begin from Mendoza – located on the eastern side of the Andes in Argentina – on Tuesday afternoon, considering the weather conditions surrounding the Cerro Tres Cruces range.
"Helicopter from Mendoza is going to start in another 5 min and will reach Tres cruces around 2pm [Chile local time], today. Depending on weather conditions aerial search operations will start, according to the Facebook page made to raise funds to 'Rescue Malli Mastan Babu'.
Malli began his solo journey up the mountain range of Andes from the base camp of Cerro Tres Cruces on 24 March and had to return to the camp on 25 March.
"Chile govt approved to allow Mendoza helicopter fly in Chile area. Helicopter will start from Mendoza tomorrow in the morning and will reach mountain tres cruces by afternoon. Depending on weather aerial search operation can start tomorrow in the afternoon," according to an earlier post.
The helicopter will be refuelled at the mountain base on the Chilean side of the Andes.
"Have got approval from the director of aviación del Gobierno de La Rioja (Aviation, Government of La Rioja) to refuel helicopter in the mountain area," the Facebook post said, adding that Chile government may also assist with aerial search operation.
"Most probably ONEMI group (Govt of Chile) might also provide help in aerial rescue operations by providing helicopter services," the post said.
The approval from the Chile government is the result of immense efforts by Malli's friends and alumni of the Indian Institute of Management, Calcutta, from where Malli obtained his MBA degree in 2004.
They have been in constant touch with the Indian embassy in Chile and India's Ministry of External Affairs regarding the rescue operation, apart from helping to raise funds for the aerial rescue operation.
They started a drive on Facebook to raise funds for the search operation to locate 44-year-old mountaineer who was to return to the base camp of Cerro Tres Cruces along the Argentina-Chile border on 25 March but couldn't make it due to bad weather.
The rescue team had launched the search operation soon after knowing his whereabouts but failed to locate him or track his GPS system.
The authorities there believe that Malli might have taken the route down from the Chile side instead of climbing down from the Argentina side, where the weather deteriorated the day he went missing.
Malli, who belongs to Andhra Pradesh, is the first South Asian to climb the Seven Summits – the highest mountains of all the seven continents – within 172 days. He earned a place for himself in the Guinness Book of World Records for being the fastest "7 summiter" in 2006.