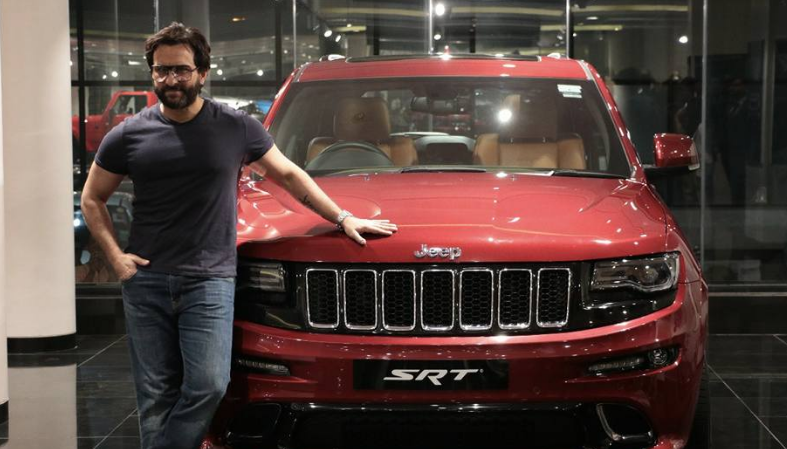 Kareena Kapoor and Saif Ali Khan's son Taimur turns one on December 20. Being the youngest member of the Kapoor Khandaan, we wonder how big his birthday celebration will be.
But before that, it's Children's Day today and Daddy Khan has a beautiful gift for baby Taimur.
Mind-bending performance blended with ultra-premium luxury, the Grand Cherokee SRT has found its perfect companion in the Nawaab of Pataudi, Saif Ali Khan, a car built for royalty.
Jeep Grand Cherokee SRT is worth Rs 1.07 crore (ex-showroom Delhi) but Saif has bought it for Rs. 1.3 crore! Wow, that's expensive. Taimur is one lucky child, what do you think?
Saif while talking to the media said: "There is a baby-seat in the back of the car, so I think I will take Taimur out for a ride in it. I think I'll give him this car. I think Taimur will love the color, nice cherry red jeep. I have thought that I will keep this car for him."
Aww, so sweet.
Saif had admitted that he becomes happy when Kareena and Taimur are not home. Here's what he told Hindustan Times:
"During the first schedule of Veere Di Wedding, she (Kareena) took Taimur to Delhi and I was very happy to be alone at home (laughs). I love being by myself but after a couple of days, I missed having them around. But I am not very finicky as a parent.
"He (Taimur) is a part of my life and this is for the long haul. I like my space and I like having them around also. We are lucky we have help and we have distraction also because I do think that sometimes having a child can be overwhelming if you don't have breathing space. Some people have a lower tolerance for claustrophobia and I am one of them."
Saif also said: "I won't be happy if I have to be around them all the time. In the second schedule, Taimur was alone with me and he was looking a little sad. But now he is happy that Kareena is back. The house also looks balanced because we need her energy."
Talking about Taimur's first birthday, aunt Karisma Kapoor revealed the plans but it's not anything unusual. Lolo recently attended an event for kids and there she was asked about her nephew's big day plans.
She said: "Yes, Taimur's birthday is arriving and it is a special moment for us. The family is really very excited and thrilled about the same. We will have a family get together of sorts, and will not be having a big celebration."