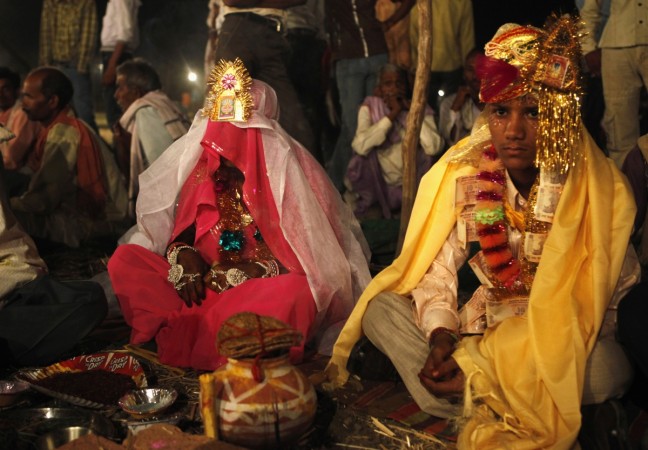 According to a new analysis based on the census data, child marriages are increasing in the urban India when compared to rural India, say reports. Although the reasons still remain boxed, patriarchy and traditional hold still exist in society.
As many as 16 of the 20 districts listed that have been reporting rise in underage marriages for over a decade to 2011, are in Maharasthtra, India's third richest state (based on the per capita income), based on a study by the National Commission for Protection of Child Rights (NCPCR), India's highest child rights body, and Young Lives India, the local chapter of a UK government-funded agency.
On the other hand, in Rajasthan, which is the ninth-poorest state (based on the per capita income), many girls aged between 10 and 17 and boys between 10 and 20 were married off before they reached the legal age of 18 and 21 respectively.
"The most concerning news was the rising incidence of marriage before the legal age among girls in urban areas between Census 2001 and 2011," said Young Lives India director Renu Singh to a media house.
There was no mention of marriages below the age of 10 in the 2011 census. On an average, very few kids were getting married over the decade to 2011. While the percent of boys marrying beore 21 fell to 2.54 from 9.64, among the girls, it was down marginally to 2.44 from 2.51.
Not only did underage child marriages increase by five times in the Bhandara district of Maharashtra, marriage of underage boys also shot up in all 16 districts. The marriage of underage boys rose by 21 times over the decade to 2011.
In Rajasthan, 8.3 percent of girls and 8.6 percent of boys, both underage got married before their legal age.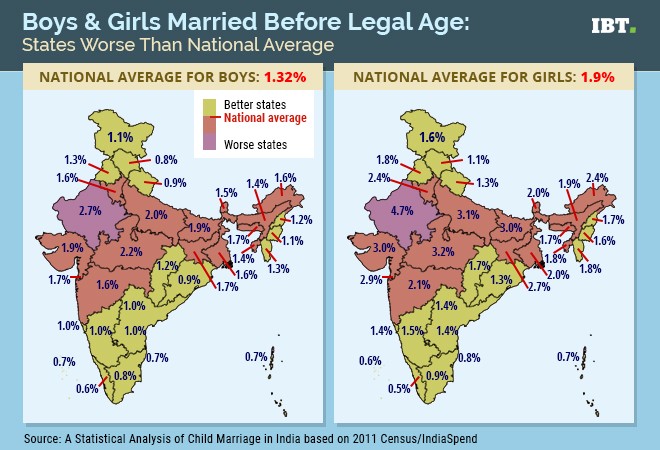 Seventy districts in 13 states have 'high incidence' of child marriages
Reports say that as many as 70 districts come under 'high incidence' when it comes to child marriages. These 70 districts account for 21 percent of child marriages in India, marks a study.
Nationwide, 21.1 percent of the child marriage cases from the 70 districts can be attributed to girls while 22.5% can be attributed to boys from these districts.
These districts are spread across Arunachal Pradesh, Andhra Pradesh, Assam, Bengal, Bihar, Gujarat, Jharkhand, Haryana, Karnataka, Maharashtra, Madhya Pradesh,Rajasthan and Uttar Pradesh.
Top 70 districts that account for a quarter of child marriages
Reports reveal that the urban districts amongst the top 70 listed contribute to 25.8% child marriages in 2011. One in every five girls aged between 10 and 17 in urban areas were married, a the study said. While Gujarat had the highest number of districts for child marriages among boys, Bengal had the maximum when it came to girls.
Reports quote studies pointing out the "immense variations" in the trends among the children getting married before age. The study had also listen multiple factors which were also pointed out by the previous researches. Some of the factors include - the perception of girls getting married after menarche, lack of education, poverty, employment, sexuality and many more.
The legal age of marriage goes against the cultural worldview of many communities, which consider biological maturity enough for boys and girls to be married, the report quoted a study.