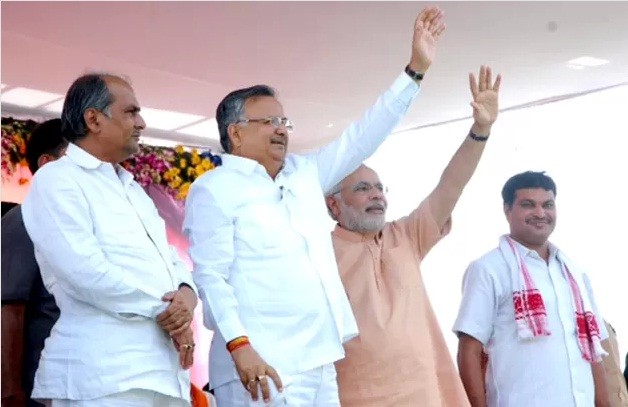 Like Rajasthan and Madhya Pradesh, Bharatiya Janata Party (BJP) has been leading in Chhattisgarh to rule the state assembly after a tight battle with rival Congress.
As per early counting of votes by NDTV news channel, BJP retains 47 of a total of 90 assembly seats as against 50 seats won during 2008 and 2003 state polls by the party.
Due to the way counting of votes shifted the upper hand between BJP and Congress, after five long hours the ruling party, led by Raman Singh, remains sceptical about the results.
While BJP supporters have thronged party headquarters in Delhi, Rajasthan and Madhya Pradesh, Chhattisgarh CM has reportedly had no 'cheers' from BJP workers outside his residence.
Till 11 am, the television reports said that Congress won in the naxal-hit state. However, after the third round of counting of votes BJP gained momentum.
But the scale was re-balanced with Congress expecting 43 seats and BJP 44, hinting towards a hung assembly in Chhattisgarh.
As per latest round of counting, Congress is closely tailing BJP with 40 assembly seats, which is more than what they won during 2008 polls.
"Why we did not leave a major mark in Chhattisgarh could be the death of Mahinder Karma, which played a strong factor," BJP leader Piyush Goyal told NDTV.
He denied that BJP prime ministerial candidate Narendra Modi could not create a 'wave' that his party boasts about. "People want to fight against naxalism and so Chhattisgarh has always been a close call between the two parties if u see last two elections as well," he added.
However, critics of Modi were quick to point out that there might just be an effect of the Gujarat CM as he has established himself as a clever orator.
J&K Chief Minister Omar Abdullah posted on his Twitter handle, "Note to self #2014 there is no "wave" but the effect on their cadre is obvious. Can't afford to underestimate this going ahead."
Chhattisgarh recorded a voter turnout of 70 percent during phase I and 75 percent in Phase II. The earliest results Maoist-hit Bastar region has surprised BJP, which had 11 of 12 seats in 2008 elections, reported Indian Express.
Out of the ten seats in Bastar, both Congress and BJP are leading at five each.