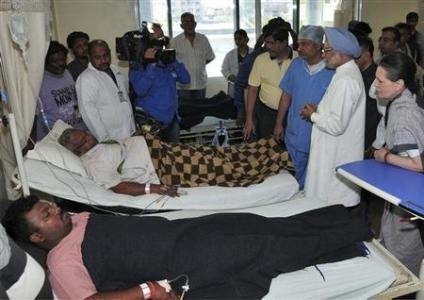 Anti-terror agency National Investigation Agency (NIA) has begun a probe into Saturday's deadly Naxalite attack which killed prominent leaderships of Chhattisgarh's state Congress party. The probe is on to find any lapses on the part of the central forces or the state government.
"We have asked the NIA to investigate the Maoist attack. Security lapses could have taken place. Any lapse on the part of central forces or the state government, buck will have to be stopped somewhere. We have to take action," Minister of State for Home Affairs RPN Singh told Press Trust of India.
RPN Singh also assured strong action against those found guilty. However, he refused to divulge any information about the orchestrators of one of the most horrific Maoist mayhem which took place on Saturday afternoon.
Meanwhile, a CNN IBN report revealed that Katakam Sudarshan, a central member of the CPI-Maoist might have been behind the deadly attack on the Congress convoy. Apparently, the Intelligence Bureau acting on a tip-off had cautioned the state, but the warning was ignored as the information was not specific, CNN IBN quoted its sources as saying.
The attack which was carried out by a heavily armed Maoist horde during the Parivartan Yatra in Darba Ghati killed 27 people, including state party chief Nand Kumar Patel, his son Dinesh, Sulwa Judum founder Mahendra Karma, former Congress MLA Uday Mudliyar, and left many injured. According to reports, security personnel managed to reach the scene nearly five hours after the attack, signalling a major blow to the state's security.
"There have been security lapses. We have asked the NIA to probe. The buck has to stop somewhere. Punishment has to be meted out to someone, to whoever is responsible. At the Centre level or the state level," RPN Singh said.
Meanwhile, the opposition BJP has condemned Congress for politicizing the Maoist attack. "There is no difference between terrorism and Naxalism now. It is unfortunate that Congress plays politics over such attacks. We have hand cancelled today's Jail Bharo protest," said BJP Vice-President Mukhtar Abbas Naqvi.