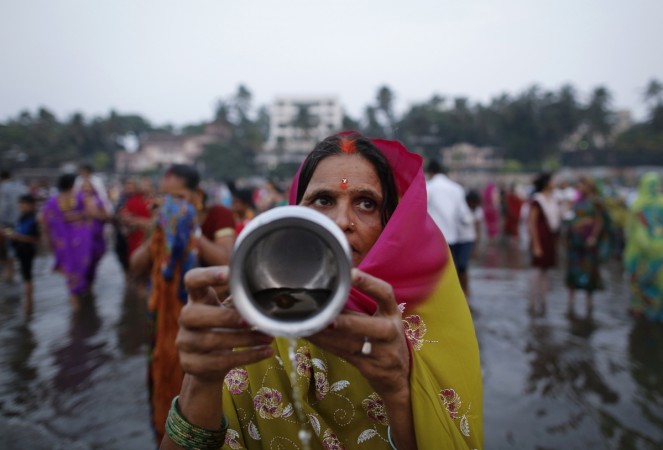 Chhath Puja, an ancient Hindu festival, is celebrated elaborately in Bihar, Jharkhand and Uttar Pradesh, to thank the Sun God Surya for sustaining life on earth and to request for the well-being, prosperity and progress of one's family.
In Hinduism, Sun God Surya is considered as the god of all life-force and energy, which is why worshiping Surya is considered to cure many diseases, including leprosy. The Sun God is also said to ensure the longevity and prosperity of family members, friends and elders.
Chhath Puja, which also worships Chhathi Maiya or Goddess Usha, an ancient Vedic goddess personification of "dawn", is performed on the sixth day of Kartika in the lunar calendar and falls in October. The rituals of the Chhath Puja are quite rigorous, with devotees observing fast for 36 hours.
While the Chhath festival lasts for four days, which includes various customs, including holy bathing, fasting, abstaining from drinking water (vratha), standing in water for long periods of time and offering prasad, prayer and arghya to the Sun as it rises and sets. Chhath Puja followers are also expected to be pure by heart and give up luxurious lifestyle and follow a low-key one during its course.
Find below the Shubh Muhurat timings for the four days of Chhath Puja 2014, as reported by India.com :
Monday, 27 October 2014 - Nahay Khay or the day of bath and eat.
Tuesday, 28 October 2014 - Lohanda and Kharna or the day of fast, which ends after sunset after the 36 hour long fast.
Wednesday, 29 October 2014 - Sandhya Argh known as the evening offering.
Thursday, 30 October 2014 - Suryodaya Argh and the Paran or breaking of the fast.
While the Chhath Puja is all about worship and rituals, no Indian festival is complete without music. The Puja songs are available in various local languages, especially in the vernacular Maithili spoken in Bihar.
Find some of the most popular songs for Chhath Puja 2014 HERE, including "Bhore Bhore Chhathi Ghat Jaib" sung by Bhola Panday for the album "Jagi Jagi Ae Surujdev".