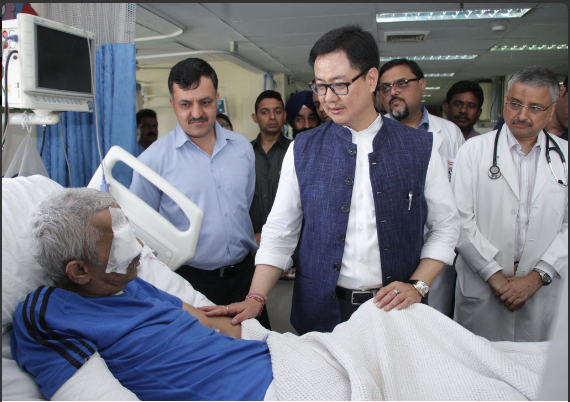 Chetan Kumar Cheetah, the CRPF commandant who was shot nine times during a gunbattle with terrorists in Jammu and Kashmir, was discharged from AIIMS Delhi on Wednesday.
"His GCS score, a test to gauge the severity of brain injury, was M3. He was in deep coma. Now his score is M6. He is conscious and all vitals are stable," a doctor at the AIIMS trauma centre told media on Tuesday. Cheetah had spent a month in the ICU of the hospital in Delhi. He was admitted with bullet injuries in his head. His upper limbs were also fractured and the globe of his right eye had ruptured.
Dr Amit Gupta, professor of trauma surgery and critical care at AIIMS, said Cheetah's recovery was no less than a miracle.
#WATCH: CRPF officer Chetan Cheeta, undergoing treatment at AIIMS (Delhi) after being injured in Bandipora encounter, gets discharged. pic.twitter.com/3VgeefV2cu

— ANI (@ANI_news) April 5, 2017
Minister of State for Home Affairs Kiren Rijiju visited Cheetah at AIIMS Delhi on Wednesday. "He's doing very fine. It's miraculous. The day I came here when he was brought from Srinagar, it was difficult to imagine he'll talk to me. I am proud of him," Rijiju told reporters after meeting him at the hospital.
Cheetah got injured in an encounter between terrorists and security forces in the Hajin area of Bandipora district in Jammu and Kashmir on February 14. At least three soldiers and one terrorist were killed in the encounter. The 45-year-old CRPF commandant was initially admitted in a military hospital in Srinagar. Later, he was airlifted to the AIIMS trauma centre as his condition got worse.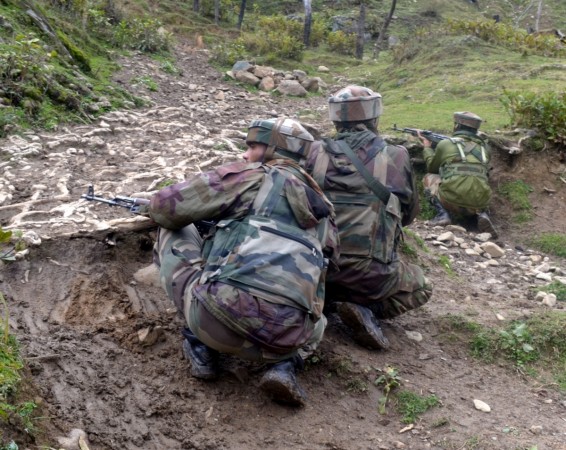 Cheetah underwent a surgery to remove a portion of the skull within 24 hours of his admission in the Delhi hospital. He was put on ventilator support for a while. Antibiotics were given to increase his blood pressure which had gone down due to his severe injuries. Doctors then administered heavy antibiotics to reduce infection.
After he stablised, a team of doctors separately treated his injuries. A group of ophthalmologists treated the wound in his left eye but could not repair his right eye because "one of the bullets directly went into his right eye injuring the frontal lobe." Several orthopaedics worked to repair the fracture in his limbs and critical care experts handled the antibiotic therapy.
Doctors at AIIMS told reporters that Cheetah would have to undergo a "rehabilitation" process in the form of physiotherapy and speech therapy for a few months for complete recovery. Mental health experts are also working with Cheetah to help him deal with post traumatic stress. Cheetah is wheelchair-bound and will be trained to walk.
"He is a very determined person and a fitness freak. I always knew he would recover," Uma Singh, Cheetah's wife, told the media.