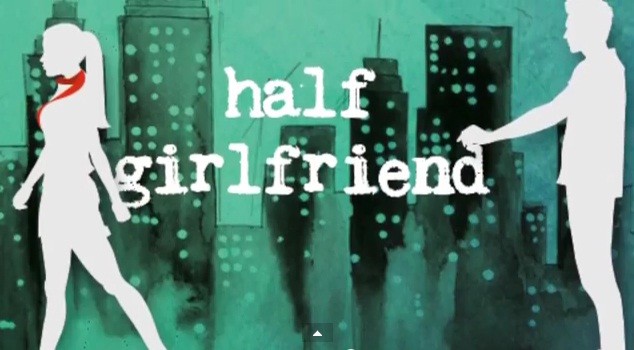 Bestselling author Chetan Bhagat's latest fiction "Half Girlfriend" has been the butt of many jokes since its front-page announcement on The Times of India.
Bhagat had announced the name of this "simple love story" by releasing its trailer via Twitter along with the post: "Hi all! Happy to announce my next book titled "Half Girlfriend".
"Half Girlfriend" revolves around a boy from almost rural area in Bihar who doesn't speak English well. He falls in love with a rich girl in St Stephen's college, Delhi. The book is about what happens when two people from different classes fall in love.
The video teaser of the book says, "Madhav didn't speak English well. Riya did. Madhav wanted a relationship. Riya didn't. Riya just wanted friendship. Madhav didn't. Riya suggested a compromise. She agreed to be his half-girlfriend."
The trailer, which was released on 4 August, already has over half a million views and Bhagat expressed his happiness by tweeting, "Text only. No cars blowing up. No famous or pretty people. Simple Half Girlfriend promo crosses half million views".
In his website, Bhagat has answered some of the fans' questions regarding "Half Girlfriend," including the one thing everyone wondered and speculated about: "What is a 'Half-Girlfriend' anyway?"
Bhagat answers, "Half-Girlfriend, to me, is a unique Indian phenomenon, where boys and girls are not clear about their relationship status with each other. A boy may think he is more than friends with the girl, but the girl is still not his girlfriend. Hence, I thought we needed a term like 'Half-Girlfriend'. Because, in India, that is what most men get."
About the overall message of the book, Bhagat says that although the book speaks about the state of primary rural education in the country, being an out-and-out love story it doesn't give out a big message. However, he hopes the book will make people believe in love and make them more sensitive and less judgemental towards people who may not have the best language skills.
"English is the new caste system. Half Girlfriend explores this aspect of our society today." Bhagat posted on 5 August.
@chetan_bhagat -True.! The snobbery of the English speaking class is nauseating. Bharat vs India it shall always be. The firangis did us gud

— Priti Singh (@prisingh28) August 5, 2014
While Priti Singh may side with Bhagat's opinion on English being the new caste system and Half Girlfriend being the window that will throw light into the situation, some other twitterattis were not so impressed.
@chetan_bhagat call it a language bias/prejudice, not a caste system. Language can be learnt but people cannot 'upgrade' their caste. — Naqshband (@naqshband) August 5, 2014
@chetan_bhagat @VikHasya so wren and martin is the manu smrithi!??? Just asking!

— Nikhil S Kaundinya (@Kaundimysore) August 5, 2014
Published by Rupa, the paperback "Half Girlfriend" to be released by mid-October is priced at ₹149 and can be pre-ordered at Flipkart.