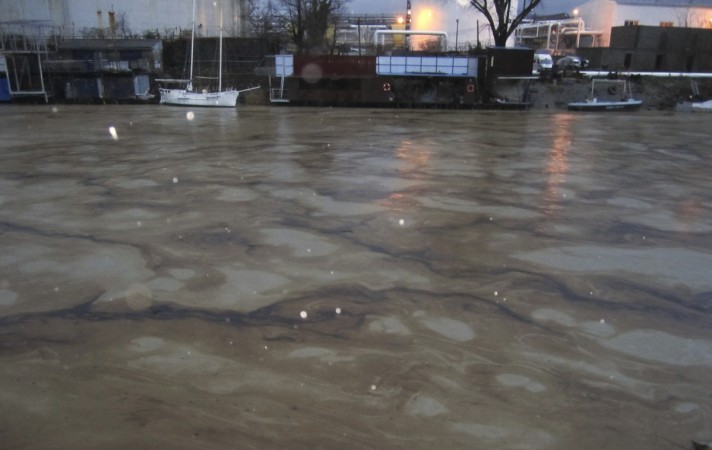 Despite reports saying that marine life has not been affected after the Chennai oil spill, locals have reported that dead turtles and hatchlings blackened with sludge are being found on their beaches.
It has been eight days since the oil spill took place, but the Coast Guard and volunteers are still struggling to clean the shores of Chennai. Though 90 percent of the work has been completed, dead marine creatures like turtles being washed ashore has become a regular sight on the beaches of Chennai.
Experts are of the opinion that while three-fourths of the damage is unseen, such calamities are bound to affect marine life.
"High concentration of oil and prolonged exposure will affect marine life adversely. While small organisms are smothered in the oil, the slick sticks to the feathers of the birds like seagulls which hinders their ability to protect themselves from the cold water," Baldev Ram Mar, an Indian Navy officer, told International Business Times, India.
Greenpeace India had reported a similar scene on January 30 where in marine life had been affected along with the fishing hamlets of Chennai. The fishermen of Chennai are undergoing huge loss due to zero customer turnouts in the markets.
On February 3, Union Road Transport and Highways Minister Nitin Gadkari had announced that the Narendra Modi government had ordered a high-level probe to identify the guilty behind the Chennai oil spill.
Chennai oil spill: All you need to know about the environmental disaster unfolding
Latest updates of probe
While both the ships have been ordered not to leave the port, it is being said that the ships collided with each other near Kamarajar Port. The port has also issued notices to the captains of both the ships on account of negligence.
It was also found out that there was a two-hour delay before the damaged vessel was secured. According to an official from the Union Shipping Ministry, the delay not only caused the fuel tank to spill the furnace oil that it was carrying, but the oil sludge at the bottom of the tank also leaked.
The investigation that is being headed by Director General Shipping has been given one month to submit a report.