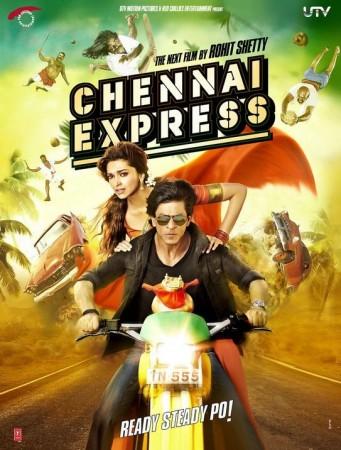 Shah Rukh Khan and south actress Priyamani have rocked the dance floor in the item song "1 2 3 4... Get on the Dance Floor" in the upcoming action comedy "Chennai Express".
The "1 2 3 4.." number is composed by Vishal and Shekhar, and both Shah Rukh and Priyamani are seen matching steps in the street folk dance form called Dappan koothu in the song.
While Shah Rukh and Priyamani are seen grooving to the number, the film's leading actress Deepika Padukone is missing from the song.
Speaking about the dance form and the actor's performance in the song a source said, "Shah Rukh will dance in a street folk dance form called Dappan koothu. It's a high energy number with Priyamani and him," Hindustan Times reported.
"The song is titled '1, 2, 3, 4... Dappan koothu hardcore...'. It has a lot of south Indian-style moves. Shah Rukh had lot of fun dancing and learning them. The dance is unique and nothing that one has seen SRK doing before. It is aesthetically shot and not a typical item number," the source added.
Shah Rukh, who is usually seen in a romantic avatar in most of his films, asserted that the dance form was very new to him and he found it interesting. "I have never done a dance form like this before. It's very intrinsic to the regional ethos and Raju (Sundaram; choreographer) has done a fabulous job. Interestingly, everything about this sequence was authentically south Indian, except for me. So it's all the more special," he said.
Meanwhile Priyamani took it to Twitter to thank Rohit Shetty for casting her in the song.
"Thank u #rohit shetty and huge thanx to @5hekhar and @V1SH4L for an awesomeastic song from #chennai express" Priyamani tweeted.
"@iamsrk ..it's a huge honour for me to date with u!!!!believe u me the audience will love u in the song!!!thank you and #rohit for having me," she added.
Watch the song here: