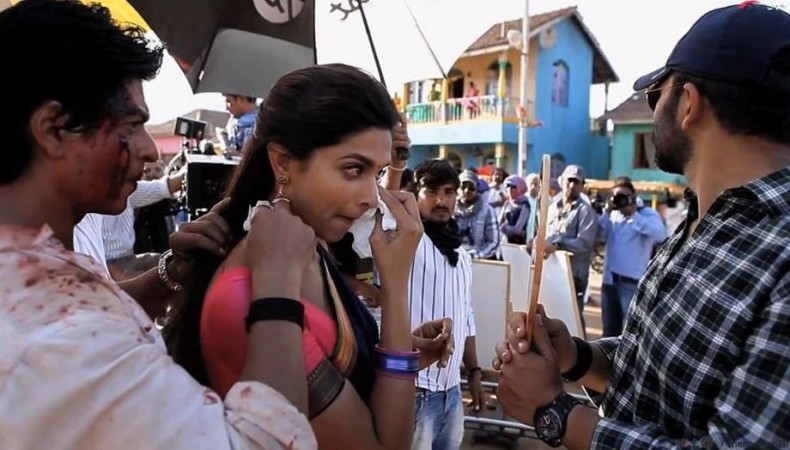 Shah Rukh Khan is leaving no stone unturned to make his upcoming action comedy "Chennai Express" a huge success. The actor apparently made the film's leading actress Deepika Padukone learn Tamil to epitomise her role perfectly as a south Indian belle.
Deepika is playing the role of a Tamil girl in "Chennai Express" and had to learn the language. And to avoid any fault Shah Rukh insisted the actress to perfect her accent.
"Deepika is Konkani, so she found it easier to learn the Tamil accent, but Shah Rukh still insisted that she work on it," a source close to SRK said, according to Hindustan Times.
To make her accent faultless, Shah Rukh made Deepika watch a lot of Tamil films and also listen to the accent carefully.
"Working with him is always fun and a learning experience. In this movie, he helped me out with my Tamil accent. He showed me Tamil films and made me hear the accent carefully. This is funny because in Om Shanti Om (OSO; 2007), he was the one who would tease me for my Konkani accent," Deepika said.
Earlier, there were reports that SRK was not happy with the fim's scores by composer duo Vishal-Shekhar and had asked director Rohit Shetty to make necessary changes in the soundtrack. (Read the report here)
Music director Vishal Dadlani later denied the reports saying that the songs were approved by Shah Rukh and Rohit.
Much before that, the actor had to re-shoot for an item song with National Award-winning actress Priyamani without any obscenities in compliance with the Censor Board's strict rules on item numbers.
With Shah Rukh channelizing almost all his energy and focus on "Chennai Express", it seems that he is going Aamir Khan's way of striving for unparalleled perfection in films.