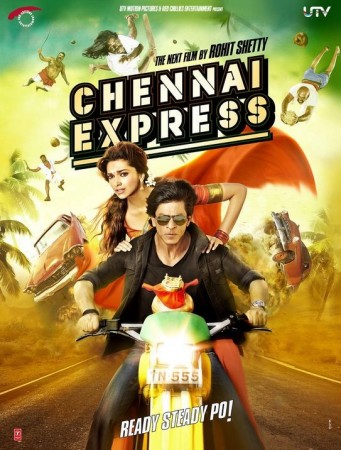 Vishal-Shekhar, music director duo of "Chennai Express" and also judges of "Indian Idol Junior", didn't show up for a special episode of the television series on Saturday, allegedly as a protest against the film's makers and lead actor Shah Rukh Khan.
Shah Rukh and his co-star Deepika Padukone appeared for the episode to promote "Chennai Express". But Vishal-Shekhar refrained from showing up for the episode citing prior commitment.
A source opined that the duo was upset with Shah Rukh and the film's makers for roping in rapper Yo Yo Honey Singh for a promotional song "Lungi Dance" without their knowledge.
"It is ironical that they decided to skip the episode which had the child contestants singing their tracks from their upcoming film. Why would they miss a chance to see the kids belt out their own compositions? It was supposed to promote the film's music and strangely the composers didn't show up," MidDay quoted the source as saying.
"They feel they were kept in the dark. As soon as buzz about Honey recording a track did the rounds, Vishal had questioned Rohit about the buzz and the director had denied it. Vishal had even stated it on his microblogging site. It's obvious that they wanted to show that they are hurt to SRK and Rohit by their absence," the source added.
The alleged clash between Shah Rukh and Vishal-Shekhar came soon after it was said the actor was not happy with several tracks in "Chennai Express". But the music composers brushed off the rumours saying, "When a film comes, all kind of news comes out, people talk things you don't know. Rohit Shetty and Shah Rukh Khan are happy with it."
This was soon followed by reports that Shah Rukh had roped in Honey Singh for the song. This was denied by Vishal Dadlani who claimed that Singh was not rendering any song for the film and was trying to ride on Shah Rukh Khan's fame.
"It's hilarious and pathetic, how desperately this tacky rap-rapper is trying to ride on the fame of @iamsrk and #ChennaiExpress. Poor guy," Vishal Dadlani had tweeted.
Contrary to their claims, Singh composed and crooned for the "Lungi Dance" song, which is a tribute to southern superstar Rajnikant. Since then, Vishal-Shekhar have abstained from attending any promotional events of "Chennai Express".