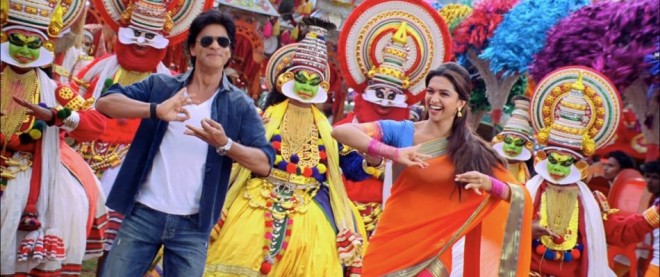 The much-awaited film of the year, "Chennai Express" finally hit the screens with paid previews on Thursday evening.
The romantic action comedy directed by Rohit Shetty tells the story of a 40-year-old man named Rahul (Shah Rukh Khan) from Mumbai who goes on a vacation to Rameshwaram and how his journey turns into a rollercoaster ride after meeting Meena (Deepika Padukone).
The film features Shah Rukh Khan and Deepika Padukone in lead and features Sathyaraj in a supporting role.
"Chennai Express" has received mixed reviews from critics upon its release.
Check out what critics have to say about the film:
Taran Adarsh of Bollywood Hungama writes: "CHENNAI EXPRESS is *not* path-breaking at all. Nor does it cater to those who scoff at potboilers. Rohit has always claimed that he's still that common man watching movies at a singleplex, so his movies, consequently, cater to those with an appetite for masalathons. CHENNAI EXPRESS lives up to the Himalayan expectations that you have from the project. It's an entertainer that proves that the SRK - Rohit Shetty combo is truly magical. In fact, it's one of the best combos to hit the masala film space.
"Final word? Just leave everything and board this Express called CHENNAI EXPRESS. Pronto. This one's a feast for those who love, adore, relish and worship zany masala entertainers!
"CHENNAI EXPRESS is a smartly packaged entertainer, an unabashed masala fare that packs just about everything that the avid moviegoer expects from a film of this stature. Relying heavily on the age-old formula of love emerging triumphant against all odds, CHENNAI EXPRESS is vintage stuff no doubt, but makes you swoon under its impact. Designed to woo the masses, very much akin to the kind of cinema Manmohan Desai made in the 1970s and 1980s, CHENNAI EXPRESS leaves you beaming, breaking into applause on varied occasions, as the plot advances.
"On the whole, CHENNAI EXPRESS has the trademark Rohit Shetty stamp all over. You seek entertainment, entertainment and entertainment in a film like CHENNAI EXPRESS and the movie lives up to the hype and hoopla surrounding it. The tremendous craze surrounding the film, the Rohit Shetty - SRK - Deepika combo, the Eid release, besides the extensive release strategy by UTV, should ensure a record-breaking start for this biggie. Right from the paid previews to the opening weekend to Week 1, CHENNAI EXPRESS should be on a glorious march in days to come, setting new records in India and also in the international markets. All you lovers of masala movies, board this Express pronto!"
Subhra Gupta of The Indian Express writes: "As 'Chennai Express' began chugging along , I found myself laughing out loud in a place. Or two. The laughs came intermittently through the first half, and I was still sitting in my seat at the interval. And then it turned into the same old story : the plot, which was thinner than a self-respecting wafer to start with, just gives up and dies, and the lead pair, Shah Rukh Khan and Deepika Padukone stop talking to each other (even as Padukone's thickly-accented 'main aati, aur jaati' out-Mehmoods Mehmood at his most outre') and begin posturing. They have no competition from anything else : the trademark Shetty bang bang -car chases, jeeps blowing up, large groups of people charging at each other-is by now more eye glaze than ever.
"This could have been a good caper, in which madcap characters race around the countryside with other madcap characters in hot pursuit. Especially when Shah Rukh Khan is so willingly sending himself up as only he can, with such a knowing nudge-and-wink that you smile despite yourself. 'Rahul', he introduces himself to Meenamaa (Padukone) : 'naam toh suna hoga'. You know you are being set up, and yet you can't help being amused. The amusement lasts only momentarily, though, and you are left feeling sorry at the waste."
Meena Iyer of The Times of India writes: "In an ode to his own cinema-read Golmaal series, Bol Bachchan, Rohit Shetty ishstyle, the director, who has grossers in Bollywood's 100-crore club, ups the scale for his Eid offering.
"Chennai Express (CE) is a magnificently mounted film. Never having been strong in the story department, CE too has a guillible plot line.
"Rahul constantly tries to outsmart the South Indian mob. And as expected in Indian mainstream cinema, he breaks into song-and-dance, gets drunk, blows up jeeps and does a Jim Carryish over-the-top act to get guffaws from a captive audience.
"For what is primarily a Hindi film, there's too much spoken Tamil. There are cleverly written lines that ask you not to underestimate the south because it even plays a crucial role in the coalition government, but for the rest of India, a lot of the dialogue is lost in translation. Subtitles would be in order.
"After Cocktail and Yeh Jaawani Hai Deeewani, Deepika is once again in superlative form. Shah Rukh's attempts at comedy go from convincing to convoluted. But, for the most part, he lights up the screen with his effervescence.
Saibal Chatterjee of NDTV writes: "It's a somewhat long ride that occasionally teeters on the edge of tedium, but it certainly isn't all wrong. Parts of Chennai Express, propelled by a spirit of inspired lunacy that holds the no-holds-barred action comedy in good stead, is markedly better than the sum total of the film.
"If only it had enough steam to sustain its momentum all the way to the very end, it would probably have been far more fun to watch.
"But do hop aboard. This Express is designed for quite a crazy carousel. If you hang in there and do not allow the many distractions and diversions along the way throw you off track, you might actually find yourself getting into the swing of things, especially in the first half.
"Chennai Express warms up pretty quickly and delivers exactly what you would expect from a Rohit Shetty film: runaway entertainment. Shetty, who obviously does not have any patience for half measures, goes full tilt at the resources at his disposal and rustles up an action-packed culture-clash comedy that has crowd-pleaser emblazoned all over it.
"The storyline is no great shakes but the delivery is always rambunctiously lively. Shahrukh Khan is a sweetmeat trader's beloved grandson. Chennai Express promises a superstar in all his many-splendoured glory.
"Chennai Express also gives Deepika Padukone a vantage seat in the best coach and she makes the most of the opportunity. As a southern mafia don's feisty daughter, Meena, she lays it on really thick, both in terms of accent and body language.
"The whole-hearted zeal that SRK and Deepika bring to the table and the steady flow of funny one-liners serve Shetty's purpose well, turning Chennai Express into an elopement-against-all-odds rigmarole that hits the right buttons at most turns."