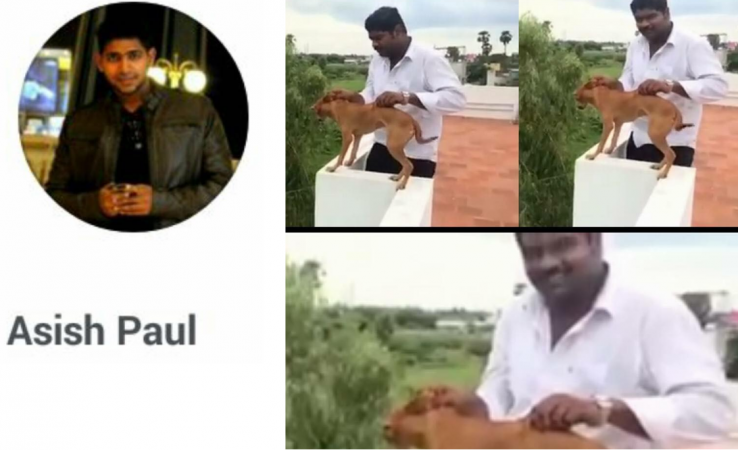 A horrifying video of a man throwing a dog from the rooftop of a building in Chennai has been doing the rounds on social media since Monday, June 4. The latest reports suggest that the person who did this heinous act against the animal is a final year MBBS student at Madha Medical College, Kundrathur, Chennai and the 35-second video was taken by his friend.
"We have verified information from a reliable source that the 2 suspects are from Madha Medical college, Kundrathur. The names are Gautam Sudharshan and Ashish Paul doing there final year MBBS. Apparently the incident took place 2 weeks before. Chennai police have been 100 percent supportive and we are in the process to get them arrested [sic]," Shravan Krishnan, an animal rights activist posted on his Facebook page. He has also given more insights on the matter apart from sharing the copy of the FIR submitted at the Kundrathur Police station on July 4.
According to Shravan, the investigators have sent two teams to arrest the alleged culprits, who are being asked to surrender at the Kundrathur police station. It is also understood that the final year MBBS students will not be allowed to write their exams if they do not surrender. They have been booked under the Prevention of Cruelty to Animals Act, 1960, IPC 428 and 429.
The video, which was initially shared on the free messaging app Whatsapp was later uploaded on Facebook by an user named Sreelesh B that has been viewed more than 2.2 lakh times, at the time of reporting. The footage has now been uploaded multiple times by many social media users.
Shravan also posted on his Facebook account:
Day 2 - Our team is very confident that our Chennai City Police would arrest these culprits today. A huge thanks to Chennai Memes, they have been extremely useful by giving us valuable Information and leads in this case.
We are having an official press meet today at the "Reporter's Guild" at 4 Pm . We want to give an update on the case and talk about our further actions. We invite all our friends from the media to join us for the meet. This is strictly for the media only. We are not involving any NGO in this issue. We want to fight the case representing the people of chennai . Please tag all your media friends.
The police have sent 2 teams to arrest the culprits. They have spoken to their parents and told them to surrender at the Kundrathur police station ASAP. The chairman of the college have spoken to their parents and told them they wouldn't be allowed to write their exams if they don't surrender. The suspect's parents have promised to bring them in by tonight. PCA 1960, IPC 428 and 429 are the acts they have been booked under.
Watch the video here. Note: It is a disturbing footage.
Here is the copy of the FIR: