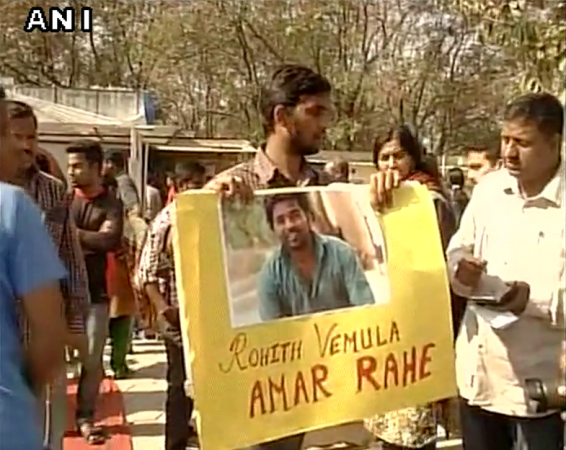 At least 60 protesters were reportedly detained in Chennai on Wednesday while demonstrating over the suicides of Rohith Vemula in Hyderabad and three medical students in Tamil Nadu.
The protesters demanded the resignation of Human Resource Development Minister Smriti Irani and Union Minister of Labour and Employment Bandaru Dattatreya.
Three female students of the SVS Yoga Medical College at Kallakurichi in Tamil Nadu committed suicide on 23 January, alleging high college fees and lack of infrastructure, The Indian Express reported. Their bodies were found in a well.
The SC /ST Teachers Forum in the University of Hyderabad declared on Wednesday that it will go on a hunger strike demanding the resignation of Vice Chancellor (VC) Appa Rao and will demand that the current VC Vipin Srivastava resume administration.
Student organisations, in order to protest the suicide of Vemula, declared a one-day strike across universities in the country on Wednesday. A protest march called Chalo Delhi is also being planned by the student committee to mark Vemula's birth anniversary, which is on 30th January.
The Osmania University's Joint Action Committee declared that it will stage a march called Chalo CM Camp office on 29 January to protest Vemula's death, ANI reported.
Around 200 student organisations have come together to form a Joint Action Committee to take the movement forward.
"The continuing and growing incidence of tragic suicides of students belonging to marginalised sections of society makes it imperative that a 'Rohith Law' be enacted... This should ensure punitive action against university administrations guilty of encouragement, abetting or even inaction in the case of the persistence of exclusionary practices in universities," NDTV quoted the committee's statement as saying.
As many as 15 Dalit teachers have joined the protests raging in the central university since Rohith Vemula's suicide.