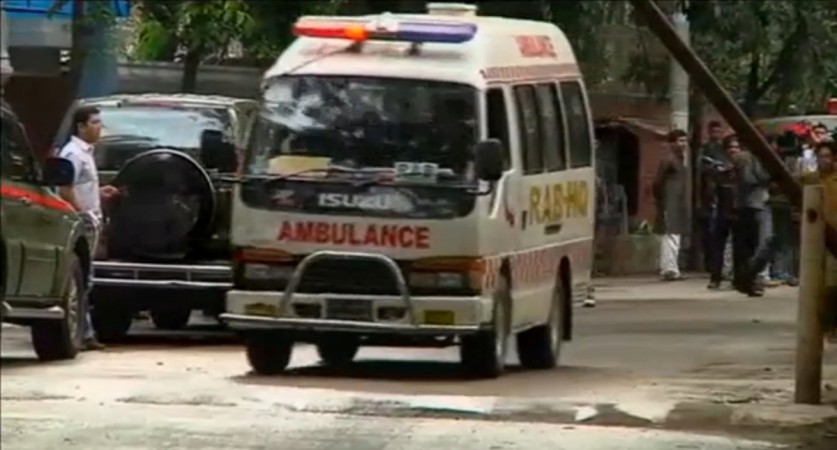 Three college students from Chellamal College in Chennai were killed in a fatal accident on Thursday. The three girls -- Chitra, Gayatri and Aisha -- all aged 20, were walking to the Guindy railway station at 1 pm when a water tanker driver lost control and went onto the platform they were walking on. The three girls were killed instantly while three others were injured.
People immediately came to help the victims, but the lorry driver managed to flee. He was caught by the police later. Chitra, Gayatri and Aisha could not be saved, but the three others were taken to hospital where they have been admitted with severe injuries.
Media reports state that the lorry driver lost control while driving near the Guindy railway station and he first hit an auto. After that, he hit three motorcycles in a row apparently injuring all the riders who were thrown to the ground. Police have managed to nab the lorry driver, who was identified as Rajendran, 40.
The accident resulted in a major traffic jam on GST Road and Mount Road on Thursday afternoon. Locals also started a protest.
Water tankers have been a source of worry for people on the roads, as this is not the first time it has resulted in deaths. In September last year, a software engineer was killed in Medavakkam when a water tanker rammed his bike and he succumbed to injuries. Bengaluru has also seen many accidents due to water tankers. In February 2015, a water tanker killed two people when it hit pedestrians and a motorcyle near Esteem Mall on the Bangalore International Airport Road.
Accident-prone areas in Chennai
31 stretches were identified earlier this year in Chennai that saw the most number of accidents. tehse include the Chennai-Tiruvallur High Road, New Avadi Road, 100 Feet Road and Beach Road. The Royapuram bridge, Kathipara Junction and Pallikaranai bridge seem to have frequent number of accidents. The areas dangerous for pedestrians were identified as: Near Padi bridge, ICF New Avadi Road, Sterling Road, Rippon Buildings, DMS-Gemini Flyover stretch, Valluvarkottam, Kodambakkam-Vadapalani Road.
Accidents were found to more common in these areas - Guindy-Kathipara Junction; Pallikaranai Bridge, Velachery; Near Rohini Theatre, Koyambedu; Anna Arch, Aminjikarai; High Court, Parry's Corner.