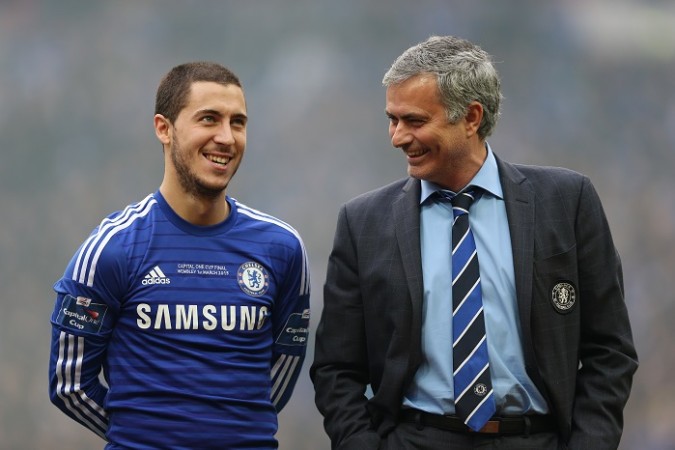 Chelsea boss Jose Mourinho has been named Barclays Manager of the Season, while Blues playmaker Eden Hazard picked up Player of the Season accolade.
Even after Mourinho led Chelsea to their first English Premier League triumph in five years, there were doubts whether he would be winning the manager of the season award as he had failed to win a single Manager of the Month accolade this season.
However, the Portuguese was finally acknowledged for his efforts this season as he was voted as the best manager in the Premier League by a panel (consisting of a group of former players, journalists and football stakeholders) ahead of the likes of Southampton's Ronald Koeman, Leicester's Nigel Pearson, Swansea's Garry Monk and Arsenal's Arsene Wenger.
Despite admitting his delight to win the prestigious award, the former Porto boss, who picked up the Premier League's best manager award for two consecutive seasons in 2004/05 and 2005/06 after helping the Blues win the English title in both these campaigns, suggested that his priority is to help the Blues win trophies.
"It is, as you like to say in England, the icing on the cake, but the cake is more important than the icing," Mourinho told Sky Sports.
"The cake is the Premier League, the cake is the objective of the manager, of the technical staff, of the squad, of the club, of the millions of supporters, and I work for the cake, I don't work for this. If, at the top of the cake, I am the manager of the season, obviously I am very happy with that."
Mourinho went on to add that he is already looking forward to helping his side win in 2015/16.
"The problem in football is that you are eating one cake and you are still thinking about the next one. This is permanent," he added."So I enjoy this cake very, very much, I have missed it for a while because the last one was in the 2005/06. But to go back to England and win it again is a fantastic feeling."
Hazard, meanwhile, completed his personal treble by winning Barclays Player of the Season award, after already being voted as the best player in 2014/15 by the Football Writers' Association earlier this month.
The 24-year-old Belgian, who has been in excellent form this season, scoring 14 and assisting eight goals in the Premier League this season, beat the likes of John Terry, Cesc Fabregas and Nemanja Matic (all Chelsea), Sergio Aguero (Manchester City), David de Gea (Manchester United), Harry Kane (Tottenham Hotspur) and Alexis Sanchez (Arsenal) to win the prestigious award.