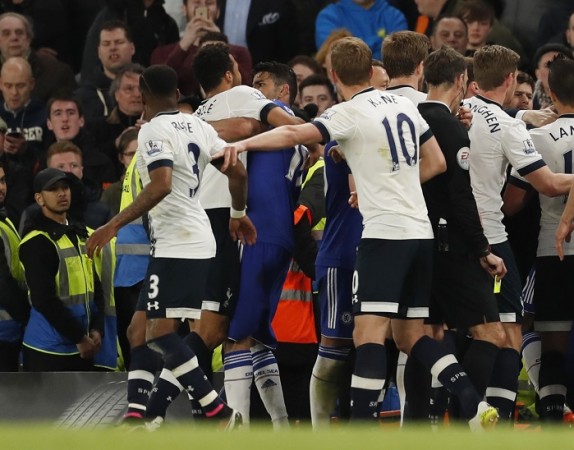 The Chelsea vs Tottenham game on Monday night was a proper London derby, one that, perhaps, went over the edge, with tackles flying in left, right and centre, a confrontation coming along every few minutes, managers and backroom staff making their feelings known and the referee Mark Clattenburg, in the end, giving out 12 yellow cards.
There was a sense of tension prevailing ahead of the match, not just because this was a must-win for Tottenham to keep their Premier League title hopes alive, but also because the prematch buildup to the match was highlighted by several Chelsea players, particularly, Cesc Fabregas and Eden Hazard, saying they would do everything in their powers to prevent fellow London club Spurs from winning the Premier League.
It looked like Tottenham might shut Chelsea up with their exploits in the pitch, as Harry Kane and Sone Heung-Min scored to give the away team a 2-0 lead at Stamford Bridge, but the deposed champions refused to go away, eventually finding two second half goals – courtesy Gary Cahill and Hazard – to hand the title to Leicester City.
While this match will be remembered for the day that Leicester clinched an historic Premier League crown, it was also soured by altercations on the field and off it, as the entire contingent from both teams clashed in the tunnel after the final whistle.
However, Mauricio Pochettino, who had to go onto the pitch a couple of times to try and put an end to a possible fight, refused to blame his Tottenham players, who were handed a record nine yellow cards in the match, for losing their cool.
"It was a derby, we were fighting to win the title and Chelsea were fighting to try and win," Pochettino was quoted as saying by The Guardian. "We were all involved. When you play for the title and play a big team like Chelsea, they want to win. It was normal emotion, fighting on the pitch is not a good example, for both teams.
"In football we want to win and sometimes situations like this happen. I think there is nothing to say, nothing to blame, how they [Chelsea] take the game shows big respect for us. That makes us feel proud.
"Our players are disappointed and sad, we need to feel that for the future. We are the youngest squad in the Premier League and to be in this position is fantastic. Now we need to focus to keep our place and finish second."
Chelsea manager Guus Hiddink was happy with the way his players reacted in the second half, but not that proud of the manner in which it all went down in the end, with the manager revealing Diego Costa, who was the victim of a possible eye poke from a Tottenham player, had scratches on his face.
"Of course it was a very emotional and hectic game," Hiddink said. "At the end highly emotional.
"I took Fabregas, I tried to get him down [the tunnel], because there were some words in Spanish and I understand Spanish. Threatening a bit. There became more people involved and we shuffled around. There was a lot at stake for them, and for us prestige at stake. An emotional game between two big clubs."