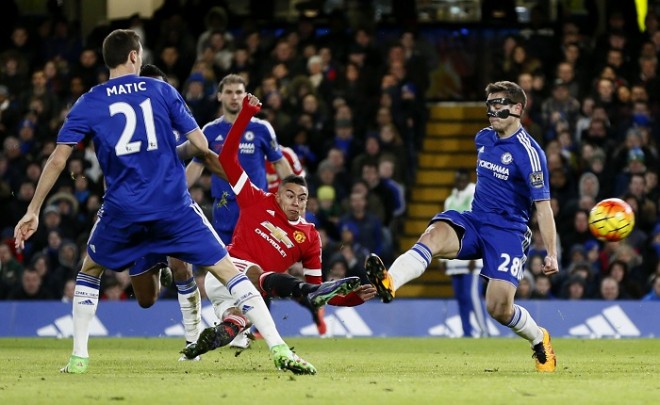 Louis Van Gaal bemoaned the late equaliser scored by Chelsea, which left Manchester United coming away from Stamford Bridge with only a point.
The English Premier League game between Chelsea and Manchester United was an enthralling one, with the latter dominating proceedings for the first 25 minutes of the match – without scoring – before Chelsea went into halftime looking stronger.
Manchester United were the dominant team in the early part of the second half, with a wonderfully-taken Jesse Lingard goal giving them a deserved lead. However, United completely withdrew into their shells after that opening goal, inviting pressure from Chelsea, who eventually broke through right at the end, when Diego Costa bullied his way past Cameron Borthwick-Jackson and David De Gea, both of whom were excellent for United, to slot into an eventually empty net.
"I think we played a superb game until the last quarter," Manchester United manager Louis Van Gaal told the club's official website. "We did not keep the ball and we did not play the attack in the way I think we have to do. We were unlucky that we got the goal against us, it was unbelievable. We did not reward ourselves."
Van Gaal felt the equaliser was borne out of his team's inability to keep the ball at the other end of the pitch, with substitute Memphis Depay losing possession, before Cesc Fabregas was allowed to thread a ball through, which found its way to Costa, courtesy a slip from Daley Blind.
"Chelsea kept pushing with long balls and more aggression, but nevertheless you have to keep the ball and we have to be composed when we defend," Van Gaal added. "We have to make sure we are not kicking the ball away without any meaning.
"There were a lot of times when I think we could have controlled the ball and played the ball. Also, we could have scored after the first goal, I think, but we do not reward ourselves. When you play such a game against a fantastic team like Chelsea, you have to reward yourself.
"It is deep frustration for me because we were the better team. Again, we did not win and we had the chances but we did not win."
Van Gaal was left frustrated by missing out on two points, as the draw means the gap to Leicester City at the top is now 12 points, while fourth-placed Manchester City hold a six-point lead over their neighbours.
"When your aim is to be third, second or first then you need to win because the gap is already big and the gap is now bigger than before and that is not good," Van Gaal observed. "I know that we have to play a very nasty away duel and match against Chelsea.
"Of course, I shall say to my players that it was a fantastic performance until the last quarter, I have said that already, but we have to reward ourselves because it is not the first time this has overcome us."