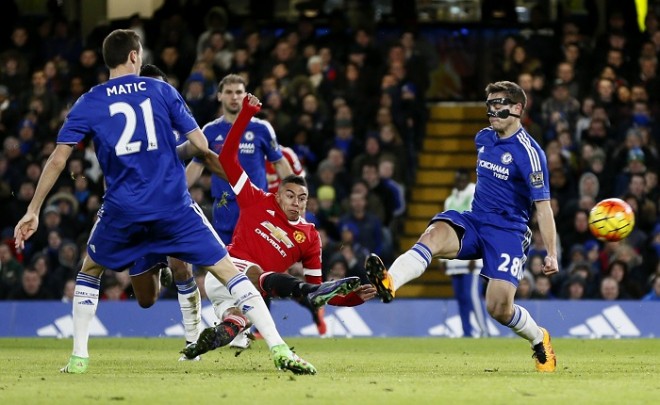 Manchester United and Chelsea played some attractive football at Stamford Bridge on Sunday to share a point each from the entertaining game, which ended 1-1. Jesse Lingard's goal in the 61st minute helped the visitors take crucial lead, which was eventually cancelled out by Blues' striker Diego Costa in stoppage time.
United started the game brightly, enjoying plenty of possession and also came close to goal a few times but did not have much to show for their efforts in the first 20 minutes.
One has to applaud Chelsea's defenders, who looked solid against anything that was thrown to them by the home team, which led to nine corners in the first 25 minutes. Such stats reflect United's dominance initially.
As the game progressed, Chelsea gradually got back into the game and looked better. Costa got Chelsea's first big chance at goal but the Spaniard's shot was wide of the mark. Chelsea increasingly began to ask questions to United defenders, who were in some sort of trouble, especially when Chelsea attacked from the right.
Despite attempts from both the teams to take an early lead in the first half, Manchester United and Chelsea went into their respective dressing rooms with scores tied at 0-0.
United once again started the second half well and began to dominate proceedings. The Blues, who were determined to play some fluid football, also brought Eden Hazard from the bench.
However, the deadlock was finally broken as United's Jesse Lingard came up with a brilliant goal to help United take the much needed lead in the 61st minute.
With a goal down, the Blues, who were in search of the equaliser, brought Pedro as well to use his pace in order to pose problems from the wings. Chelsea, after conceding the goal, began to put pressure on United, and goalkeeper David de Gea came to the rescue, making some tremendous saves to deny Chelsea the equaliser.
Despite de Gea and his efforts, Chelsea, who were persistent in the last 15 minutes, found the back of the net in the 91st minutes via Costa to help Blues draw level. The Spaniard could have well won the game for the Blues as the striker was once again denied by de Gea in the final minute of extra time.