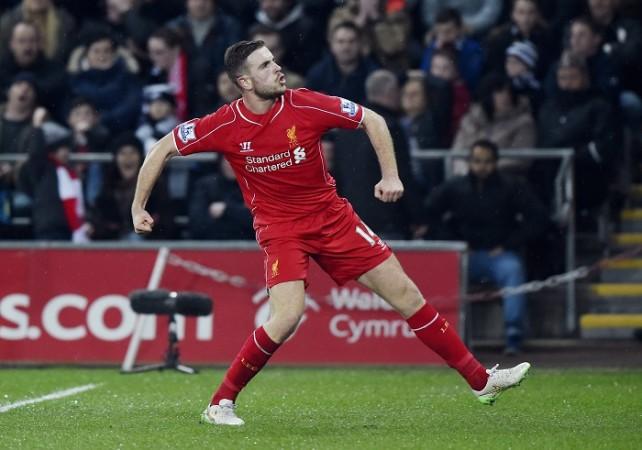 Chelsea are reportedly looking to make a summer swoop for Liverpool's Jordan Henderson following reports of the midfielder turning down a new £80,000-a-week deal.
The Reds are facing a lot of trouble convincing their players to stay as a lot of them seem to be keen on leaving Anfield.
Liverpool favourite Steven Gerrard first turned down a new contract and shocked everyone by announcing that he would be leaving Anfield at the end of the season.
After that, Raheem Sterling turned down a new £100,000-a-week, saying that the "timing was off" and he would only be opening talks with the Reds after the end of the season.
And now Henderson appears to be the latest contract rebel at Liverpool, with the midfielder rejecting a new £80,000-a-week deal, according to the Daily Star.
While the Merseyside club still have a couple of years to convince Sterling to sign a new deal, they will need to act fast if they want to keep their vice captain as he will only have a year remaining on his current contract after the end of this season.
Although the 24-year-old initially struggled at Anfield following his £20 million switch from Sunderland in 2011, he has now managed to establish himself as one of Liverpool's key players.
Henderson has especially been impressive this season, and his performances have caught the eye of Premier League leaders Chelsea, according to the same report.
Despite the Blues already having the likes of Cesc Fabregas Nemanja Matic, Ramires and John Obi Mikel in the central midfield position, they are believed to be interested in the prospect of swooping up a quality player like Henderson on the cheap.
The England midfielder may also be open to a move to Chelsea as Liverpool's chances of qualifying for next season's Champions League are pretty slim following the Reds' back-to-back Premier League defeats to Manchester United and Arsenal.
Meanwhile, Liverpool boss Brendan Rodgers rubbished reports of him blasting his players following the Reds' 4-1 defeat at Arsenal.
Earlier, there were reports of Liverpool facing a major dressing room crisis following rumours of Rodgers accusing certain unnamed senior players of showing a lack of commitment after the Reds' defeat at the Emirates.
But the former Swansea City boss has denied all these reports, insisting that his side have never lacked "commitment and focus."
"The team might be short of certain elements but in terms of commitment and focus, it's pretty clear," Rodgers told BBC, adding that the meeting was just a regular one to analyse the team performances.
"We have lots of meetings here analysing performance and this one was no different."