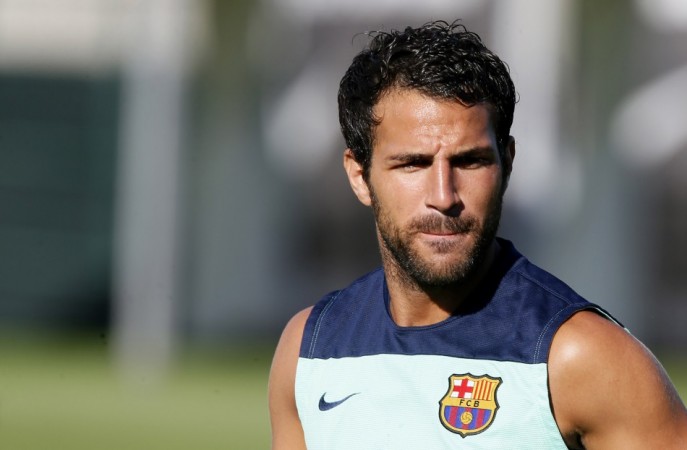 Chelsea boss Jose Mourinho has refused to rule out a move for Barcelona midfielder Cesc Fabregas despite the Spaniard being linked to a number of English Premier League clubs.
There has been a lot of speculation about Fabregas' future over the past few weeks after Barcelona's new boss Luis Enrique reportedly suggested the midfielder was not included in his plans for next season.
As a result many Premier League clubs including Manchester United, Manchester City and Arsenal have been linked to Fabregas.
Although Arsenal were being considered as the favourites to re-sign the Spaniard due to their buy-back clause, some reports suggested the Gunners were not interested in getting their former captain back.
And now it looks like Mourinho has joined the race to sign to secure the Spaniard's signature.
"I am interested in studying Fabregas' situation I think he is anxious to leave Barcelona and motivated to return to England. I think that is clear," said the Chelsea boss.
However, the "Special One" believes that Fabregas' future will not be resolved before the 2014 World Cup.
"Whether he is going to sign for Chelsea or for another club, that is not a a subject to be discussed today, tomorrow or before the World Cup," he added.
Chelsea striker Fernando Torres has also backed his compatriot's move to Stamford Bridge, saying the Spaniard's addition would greatly benefit Chelsea.
"Big players are always good signings. We know Cesc, he knows the division and was always among the top players when he was at Arsenal. He likes to play good football and will offer ball control, cutting edge, and goals," Torres told Spanish newspaper Marca.
"If he's made to feel important, like a leader - like when he was at Arsenal - he can drive the team on and he's a type of player Chelsea don't have right now."
Meanwhile Torres, who is currently busy preparing with Spain for the 2014 World Cup, has also welcomed his other compatriot Diego Costa, who is close to signing for the Blues after passing a medical at Stamford Bridge.
"He is a strong player who is good with his back to goal, someone who can mix it with defenders and offer another outlet when you're having a hard time in possession," added the 30-year-old striker. "He has different attributes to our other attacking players, so he gives the coach a different option."