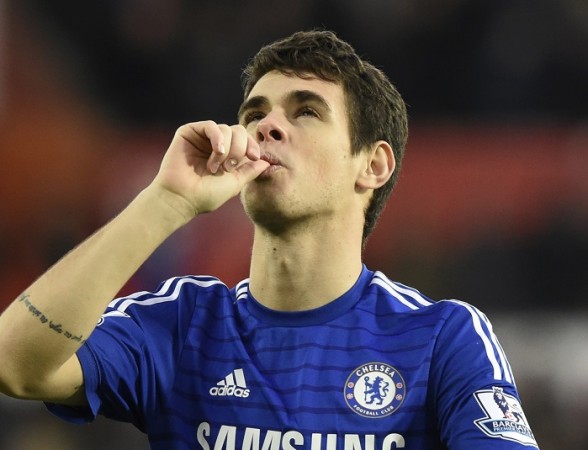 Chelsea are reportedly willing to offer their Brazilian midfielder Oscar in a player plus cash deal for Juventus star Paul Pogba.
Despite the 23-year-old midfielder, who completed a £25 million switch from Internacional in the summer of 2012, signing a new five-year contract with the Blues recently, the Brazilian's future at Stamford Bridge is uncertain, with him not being able to get a place in the first team of late.
Chelsea boss Jose Mourinho is reportedly steadily losing patience with the Brazilian due to his form of late, and he is ready to offer the midfielder in a player plus cash deal for Pogba, according to the London Evening Standard.
Juventus have remained firm in their resolution not to sell their star Pogba despite the midfielder being targeted by a host of top clubs including Manchester United and Manchester City.
However, Chelsea may be able to convince the Italian giants to part with the French midfielder as the Old Lady are reportedly interested in Oscar.
With the Blues looking for a transfer fee in excess of £30 million for the Brazilian, they may be able to land £60 million-rated Pogba if they offer Oscar plus £30 million to Juventus for the Frenchman.
Although Chelsea, who recently signed a new £40m-a-year sponsorship deal with Yokohama Rubber, are well capable of spending £60 million on Pogba, they are reportedly following their new policy of cashing in on an existing player before making a move for a new one.
Furthemore, the Blues are reportedly planning on signing the likes of Atletico Madrid's Koke and Real Madrid's Raphael Varane this summer so they cannot afford to spend all their transfer funds on a single player.
However, despite all speculations Oscar insists that he is happy at Chelsea and has no plans to leave Stamford this summer.
"I'm very happy here," he told Sky Sports. "I get along with everyone, and the club shows its praise towards me. Chelsea is one of the best clubs in the world, so I don't see why I would think of leaving."
Despite their being reports of him underperforming this season, he insists that he is happy with his own performances.
"I'm very happy with Chelsea's season so far and happy with my own performance as well, but I do think I could have contributed more to the team.
"There are different tactics depending on the opponents we face, and we respect the manager's choices. Sometimes I've ended up not playing the entire match, but I'm doing my best to fulfil my role."