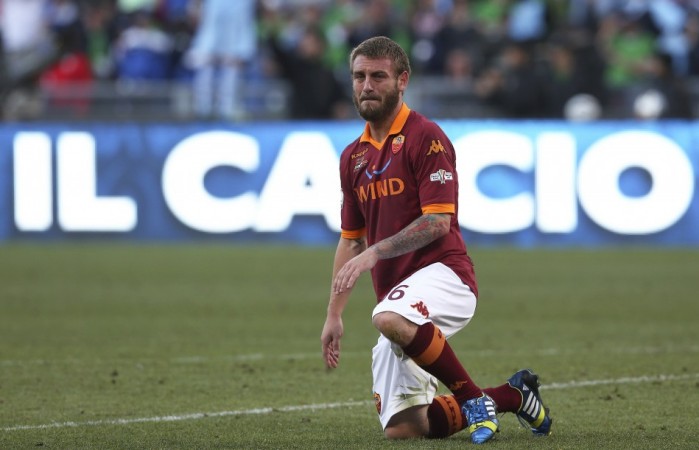 Chelsea are keen on bringing Italy international Daniele De Rossi to Stamford Bridge. Blues manager Jose Mourinho is believed to be an admirer of the defensive midfielder, having failed to sign him twice before.
"If Mourinho calls, I'm sure De Rossi will say yes," a source close to Roma and De Rossi told the Mirror. "He did not want to go to Manchester City, but Chelsea are the club who could take him to England.
They key stumbling block is the player's wages. It is believed that Chelsea would need to shell out £5.5 million after tax to match the player's wages at Roma. This figure is not inclusive of the transfer fee Chelsea owner Roman Abramovich will have to pay the Italian club.
"If Chelsea are prepared to pay his wages, then it is a transfer that can happen," the source explained.
Mourinho is in the market for a defensive midfield player as John Obi Mikel seems to be on his way to Galatasaray. It appears as though 29 year-old De Rossi tops the lists of replacements for the departing Nigerian.
Should the transfer materialise, it would be Mourinho's second signing in his second term at Chelsea. The London club completed the signing of Dutchman Marco van Ginkel on Friday. The midfielder recently gave his first interview as a Chelsea player, in which he spoke of his excitement at joining the club.
"I'm very happy to be here at such a nice club with great players," Van Ginkel told Chelsea's official website. "I am really happy, the stadium is good and the training ground is fantastic. I know about all the players and will meet them on Monday. I expect a lot, I've watched matches and it's really nice to be here."
The former Vitesse Arnhem player described his playing style for Chelsea fans.
"I am a box-to-box player," he said. "I cover a lot of metres and can score a goal, but I also like to defend and think of myself as a real team player."
In a move that will surely endear him to Chelsea fans, the player said he is looking forward to playing with Frank Lampard and John Terry.
"Playing with players like Frank Lampard and John Terry will be a huge thing," he continued. "I played three years at Vitesse, but the Premier League is very good, and I will enjoy playing with these players with this experience."