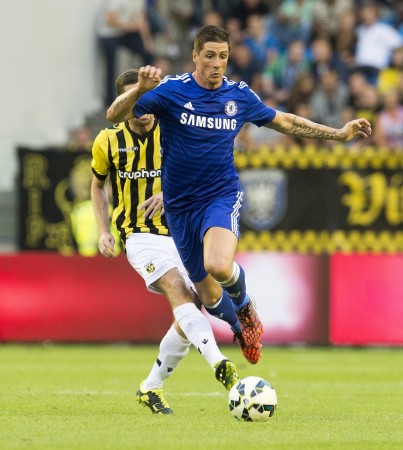 AC Milan are reportedly considering a serious move for Chelsea's Fernando Torres as they continue to hunt for a striker following Mario Balotelli's £16 million switch to Liverpool.
Earlier Milan were hoping to get the Spaniard's signature on a season-long loan, with the Blues subsidising a portion of the striker's £175,000-a-week wages.
However, the deal did not go through as Torres reportedly does not want to go on a loan.
Now AC Milan general manager Adriano Galliani, who was unsuccessful in his attempts to land Tottenham Hotspur's Roberto Soldao and Samuel Eto'o (who has joined Everton on a two-year deal), has hinted that the club may be making a permanent move for the 30-year-old striker.
"We're entering the final hours of the market so let's see if we are able to sign a big-name striker, this is our main objective. Torres is certainly a big-name centre-forward, let's see if we can get him or somebody else. We're hard at work," said Galliani, according to ESPN.
Mourinho, who had earlier stated that Torres would not be leaving Stamford Bridge this summer, insists that the Blues squad was balanced with three strikers.
"I want three strikers in the team," Mourinho had told reporters after Chelsea 2-0 win over Leicester City. "Sometimes I want to play with two and have one on the bench. Other times somebody will be injured, somebody will be suspended.
"Our squad was made carefully, with great balance. I believe he [Torres] will stay, I want him. He will play, he will score goals, he will be very useful for us. He is a fantastic professional so no problem."
However, he may be tempted to cash in on the former Atletico Madrid man as he hasn't been in the greatest of forms since his £50 million arrival from Liverpool in January 2011.
Torres would also probably prefer a move out of Stamford Bridge as he is currently Chelsea's third choice striker after Diego Costa and Didier Drogba. The striker did not even make the bench during Chelsea 2-0 win over Leicester City last weekend.
The 30-year-old, who was lethal in Liverpool, scoring 65 goals in 102 Premier League appearances, has only managed to net 20 goals in 110 games for Chelsea.