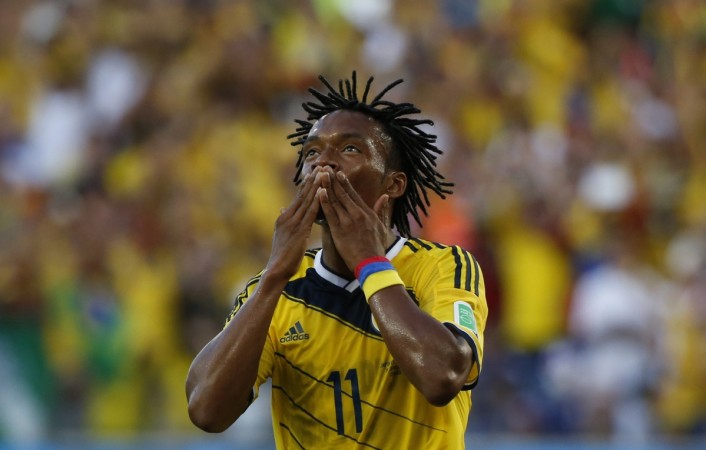 Chelsea are preparing a plan to sign the highly rated Colombian player Juan Cuadrado from Italian club, Fiorentina.
It could be a huge setback for Manchester United, who have been heavily linked to a number of players, but have failed to sign during the January transfer window. Spanish giants Barcelona were reportedly interested in signing the Colombian as well.
But, having said that the Blues have been interested since summer to sign the player from Fiorentina, which they failed.
As per the Metro report, Chelsea are willing to pay Juan Cuadrado's £26.8million buy-out clause.
Jose Mourinho is a huge admirer of the star player, who impressed many with his impressive performances in the 2014 world cup in Brazil.
But one wonders as to how Jose Mourinho would fit the player in his side, which possesses a number of world class stars, including a host number of attacking midfielders - Eden Hazard, Oscar, Cesc Fabregas, Willian.
Will he even get a chance to play for the Blues? Is he ready to warm the bench after being one of the most influential players for Fiorentina?
But, his style of play might perfectly fit the Blues, who are an attacking side, so he could bolster the squad. The Colombian is good with the ball on his feet and can use his burst of speed to good effect. Along with this, he is a dangerous dribbler of the ball, thus assisting goals.
The Colombian international signed for Fiorentina from Udinese in 2012 after having been loaned out to Lecce.
Mourinho has not been as active as other EPL managers in the January transfer market, like Brendan Rodgers, Louis van Gaal, Tony Pulis and a number of other club's managers, whose club have been linked to a number of players across Europe.
Why would a team, which stands on the top of the EPL standings sign players, when their squad players are performing extremely well. In addition, Jose Mourinho is not someone who loves to tinker with the team sheet much.
There are some players who have been linked away from Stamford Bridge, primarily Mohammed Salah and Andre Schrrule. The Express reported that the Italian outfit, AS Roma are confident of signing the Egyptian player initially for loan with a view of making the deal permanent for £12m.
While, Schrrule has been a subject to Wolfsburg bid of around £23 million.