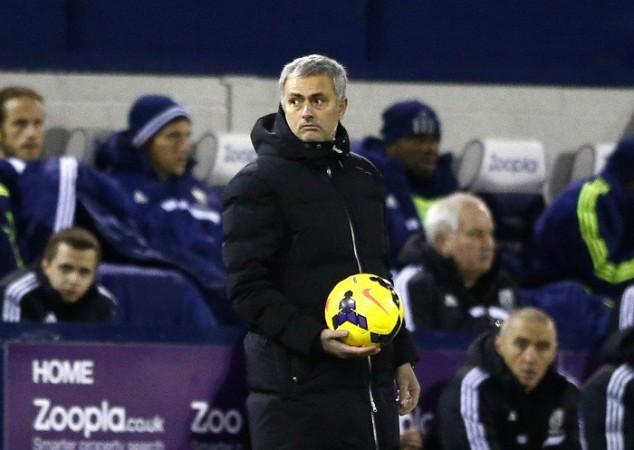 Chelsea's problems with their strikers have been well publicised, with the likes of Fernando Torres, Samuel Eto'o and Demba Ba unable to find the back of the net with any sort of consistency.
That has inevitably led to the Blues being linked with some of the best strikers in the world at the moment, and those reports were fuelled further with manager Jose Mourinho hinting at a possible summer move for Monaco striker Radamel Falcao.
"I don't have Falcao but Falcao doesn't have a team," Mourinho told Canal Plus. "Who wants to play in front of 3,000 supporters? If I was one day to go to Monaco it would be at the end [of my career]."
Falcao moved to Monaco last summer, with Chelsea unable to match the wages, tax free in the principality, on offer, while third-party ownership for the Colombia international was also an issue.
Chelsea are doing their utmost to comply to the financial fairplay regulations that have come into effect, but if Falcao, who is reportedly disillusioned with life in Ligue 1, does become available, then the English Premier League side might find it difficult to resist making a big offer.
Mourinho's need for a potent striker up front has been heightened due to the indifferent form shown by his current three forwards, who the Portuguese admitted were not up to scratch.
"The problem with Chelsea is we lack a scorer," Mourinho said in that conversation with French broadcaster Canal Plus, with the manager unhappy with the fact that the comments were broadcasted, having initially thought the conversation took place off the record.
"I have one [Eto'o] but he's 32. Maybe 35, who knows," he added jokingly.
While Falcao looks like a possibility, Mourinho ruled out a move for his former player Zlatan Ibrahimovic, who has been in stunning form this season.
"It's impossible," said Mourinho about a possible move for Ibrahimovic, who played under the Portuguese at Inter Milan. "He's happy in Paris. I know because he's my friend and we're in touch.
"PSG with all its wealth would never open the door. That's mission impossible."
A player who has been linked with a move away from Stamford Bridge and to PSG is Eden Hazard, with Mourinho slamming the door shut on a possible swap deal involving Edinson Cavani.
"Eden is our boy," Mourinho emphasised. "We want him to stay for 10 years. We want to build the team around him. He is a player with the style of football we want to have in our team."