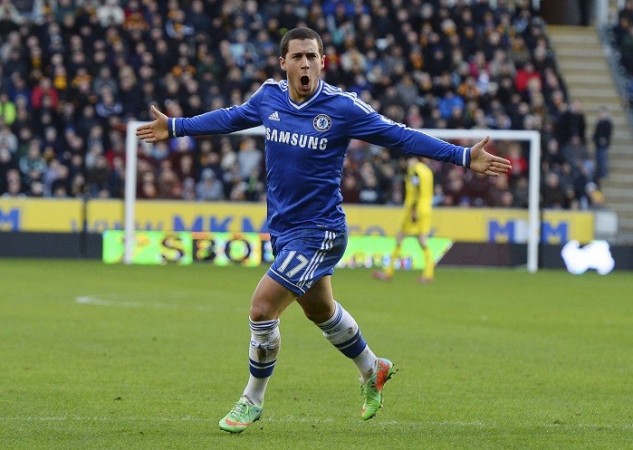 Chelsea playmaker Eden Hazard has dismissed all speculations of him making a move to French Champions Paris Saint-Germain this summer.
Paris Saint Germain, who are on the verge of signing Chelsea's David Luiz for a reported £40m, have also expressed their desire to sign the 23-year-old Belgian, despite not being to adhere to UEFA's Financial Fair Play rule.
Also there were rumours that there was a disagreement between Chelsea boss Jose Mourinho and Hazard, after the former had earlier accused the latter for not giving his 100 percent on the pitch.
This caused a big panic among Chelsea fans as Hazard, who was recently voted as Chelsea's player of the season, is easily one of the best players at Stamford Bridge.
However, Hazard insists that he has no plans of leaving Chelsea despite PSG boss Laurent Blanc stepping up his interest to sign the Belgian this summer, according to the Metro.
"If you got to know me you'd know I'm not someone who is disturbed by it. Every year they say I'm everywhere. It's part of the job. I focus on the World Cup which is much more important than what is said in the papers," said Hazard.
Hazard, who was transferred from Lille to Chelsea for a fee of £32m in the summer of 2012, enjoyed an excellent campaign at Stamford Bridge, scoring 14 and assisting 7 goals in 35 Premier League games this season.
Meanwhile, Borussia Dortmund are reportedly looking to make a move to sign Chelsea estranged striker Romelu Lukaku this summer, according to the Metro.
Despite being tipped to be a world class striker in the future, Lukaku has been cold shouldered by Chelsea, since his arrival from Anderlecht in the summer of 2011.
After spending his first season on the sidelines, the 21-year-old Belgian was loaned off to West Bromwich Albion , where he was very impressive, scoring 17 goals in 20 Premier League games in the 2012/13 campaign.
Despite impressing in the 2013/14 pre-season tour, he was once again loaned off to Everton, where he again managed to impress, 15 goals in 33 Premier league appearances.
Now with Mourinho reportedly looking to bring in Atletico Madrid's Diego Costa and Bayern Munich's Mario Mandzukic, it looks like Lukaku is just going to be surplus to requirements at Stamford Bridge.
This is why Borussia Dortmund, who are themselves keen to find a replacement for their departing striker Robert Lewandowski, are looking to make a move for the Belgian, who recently scored a hat-trick during Belgian's friendly clash against Luxembourg
However, Dortmund may be facing a lot of competition to sign the young in-demand striker as many clubs including Everton and Tottenham Hostpur are also interested in landing the Belgian.