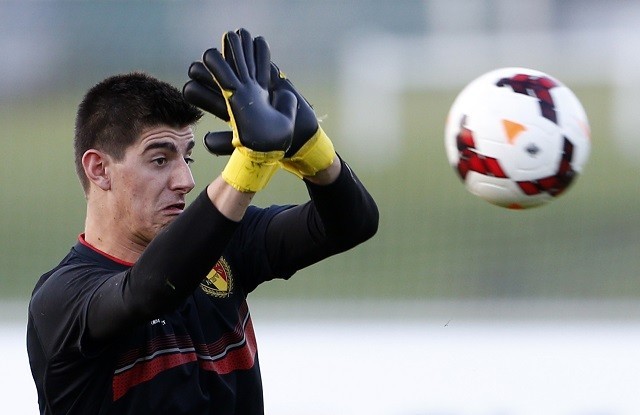 Thibaut Courtois says he is uncertain about his future with Chelsea as Petr Cech is still the Blues' first choice goalkeeper.
The 22-year-old, who is currently on-loan at Atletico Madrid, has been in excellent form, helping his side win the La Liga title this season. The young Belgian, who is now busy preparing for Atletico's clash against Real Madrid in the final of the Champions League, will be heading to Brazil with the Belgian national team for the 2014 World Cup.
This is why Courtois, who is yet to make a single appearance for Chelsea as he has been loaned out to Atletico for three successive seasons since joining from Genk in 2011, will not be content on being the second choice goalkeeper at Stamford Bridge.
"I am not sure yet what happens next season. It is a great feeling to be champions of Spain. We have the Champions League final next week and then the World Cup. Now is not the time to think about my future. If I move somewhere, I will play. At my age, the most important thing for me, and what I want to do, is to play," said the Belgian.
"Petr is one of the best goalkeepers in the world and he won the Golden Glove in the Premier League this season. I have a lot of respect for him. I have two years [left on my] contract with Chelsea, so we will see what they decide."
Meanwhile Atletico Madrid, who have done brilliantly this season, are eager to have Courtois at the Vicente Calderon for a fourth consecutive season. However, Atletico Madrid's chief executive Miguel Angel Gil Marin admits the relationship between the two clubs has been fractured due to the fact that Courtois was picked to play against his parent club in the semifinals of the Champions League this season, despite Jose Mourinho's misgivings.
"What happens with him [Courtois] will be decided after the Champions League final. It was all agreed, but the draw bringing us together with Chelsea in the Champions League put the operation on hold," said Gil Marin.