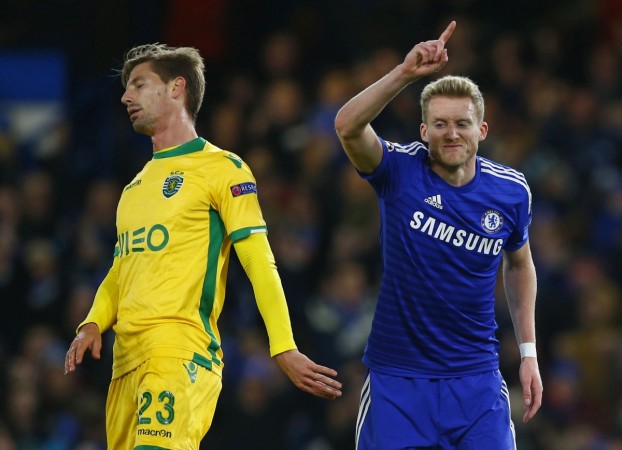 German midfielder Andre Schurrle has dismissed all speculations of him wanting to make a move out of Chelsea in the winter transfer window, insisting that he is happy at Stamford Bridge.
Earlier there were reports of Chelsea boss Jose Mourinho not being happy with Schurrle's performances and wanting to offload in the January transfer window.
Also there were speculations of the 24-year-old German being unhappy due to his limited play time at Stamford Bridge this summer.
However, Schurrle, who is starting for the first time in five weeks against Sporting Lisbon on Wednesday, insists that he will not be packing his bags in January.
"I can just laugh all the talk of leaving off," the former Bayer Leverkusen midfielder told London Evening Standard. "I am not going to change the club in the transfer window."
"I am happy where I am, I am happy in London. I love the city, I love the fans. We have a great team and want to win something this season. This is where I belong and where I want to help. I know what the manager wants for me and that he likes me."
Schurrle, who joined Chelsea from Bayer Leverkusen for a fee of around £18 million in the summer of 2013, feels that the drop in form this season has resulted due to his prolonged illness.
"The illness has lasted weeks and weeks. Even during the World Cup my body didn't feel that good," he added.
"I don't want to say what the medical name for the illness was but the symptoms are hard to get over. While they may have gone away, it took a toll on my body and it takes lot of time to get back to match fitness. I'm not where I want to be but I feel better."
Meanwhile, Gary Cahill claims that all the other sides in the Champions League are dreading the prospect of facing Chelsea in the round of sixteen of the competition.
The Blues have been impressive in the group stages of the Champions League, easily topping their pool, recording 14 points with four wins and two draws.
Although Mourinho recently indicated that there are a lot of dangerous sides that Chelsea could be drawn against in the last sixteen of the Champions League, Cahill insists that other teams will also be feeling the same about the Blues.
"I'm sure teams won't want to come up against us," Cahill told the Daily Star. "I think we're a good team. We're certainly playing well, aren't we?" I think we're dangerous. There are loads of dangerous teams going into the next round, and we're no different."
"With the squad we've got there are a lot of players I'm sure the other teams are well aware of."