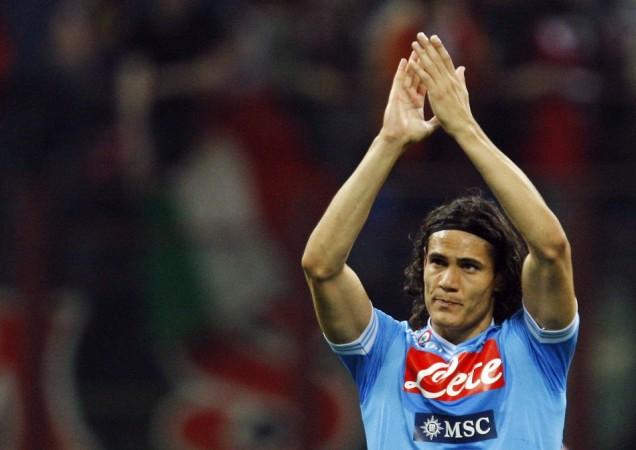 Uruguayan footballer Edinson Cavani has not shut the door on Chelsea, who are reportedly keen to sign him this summer, despite his family members claiming that he wants to move to Real Madrid.
"Everyone wants to play for the biggest clubs in the world, clubs with a lot of tradition. But nobody knows my future, I don't know anything. I only know that I am a Napoli player. The truth is that there is nothing concrete, nothing official," the 26-year-old Napoli player, who is currently in Brazil for Confederations Cup, told The Sun.
The statement came just a few days after his parents alleged that he was in talks with Manchester City and Real Madrid.
"Napoli's president Aurelio De Laurentiis has spoken about the possibility of discussions with Chelsea but there is nothing definite with them at the moment. We will know more in 15 to 20 days. There are so many voices, and when something happens I will be the first to know," his mother Berta Gomez told a Montevideo radio station.
However, his dad Luis Cavani told The Sun that the footballer is interested in Real Madrid.
"His intention is to play for Madrid. He is excited about it and is very willing to see it through. He has told the family in private that he wants to join Real Madrid but if he declares it publicly it will annoy Napoli. I hope it happens and that talks take place as soon as possible. Who wouldn't want to play for Real Madrid?" The Sun quoted Luis as saying.
Chelsea are keen to sign the Uruguayan footballer and had even made a whopping £49.3million bid, according to the Mirror. Napoli president Aurelio De Laurentiis had also revealed that The Blues were interested in Cavani. It was even reported that Chelsea were willing to offer its star striker Fernando Torres as part of an exchange.
Meanwhile, Chelsea have signed Bayer Leverkusen's Andre Schurrle in a reported £17million deal, becoming the first signing for Jose Mourinho who has returned to Stamford Bridge for a second spell.