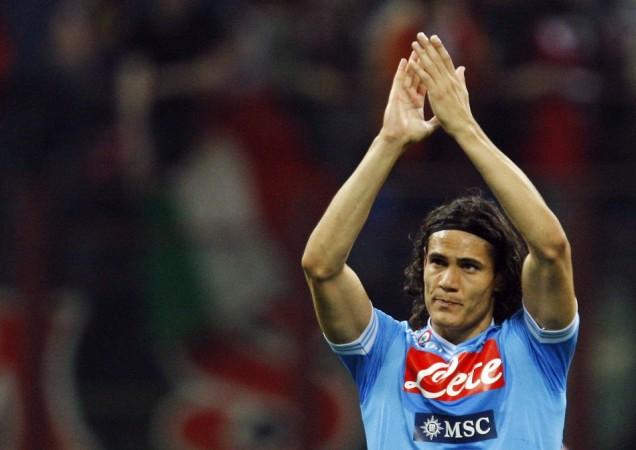 Uruguayan footballer Edinson Cavani is likely to move to Chelsea, according to Napoli president Aurelio De Laurentiis.
"There is interest from Chelsea in Cavani, they'll call me in the next few hours. If Cavani is sold then I'll reinvest all of the £53.5 million of his release clause. I'll be delighted if he stays, but if he leaves then he will be adequately replaced," The Sun quoted Laurentiis as saying.
It was reported that Chelsea is keen to bring in Cavani and even willing to offer its star striker Fernando Torres as part of an exchange. However, Jose Mourinho may face stiff fight from Real Madrid, Manchester City and Paris Saint-Germain, who have also shown interest in him.
Speculations have been doing the rounds that Chelsea is eyeing Wayne Rooney, who has placed a transfer request to Sir Alex Ferguson a few weeks ago. Dutch midfielder Wesley Sneijder has been linked to Chelsea ever since the reports of his exit plan from Galatasaray surfaced. The Daily Telegraph also reported that Manchester City's Edin Dzeko could land up in Chelsea as he is on Mourinho's wanted list.
However, Jose Mourinho, who has returned to Stamford Bridge for a second spell after leaving for Real Madrid five years ago, has not talked about signing any new player.
"We have to improve the team, and when I say improve the team people are already thinking about how many millions Chelsea are going to spend, and when I say improve the team I am saying improving by work," Jose Mourinho told Chelsea TV.
"My work has to improve players and improve the team. If I don't do that I am not happy with myself. If after that we can improve the team by buying a couple of players it is fantastic but I have to improve the team and the players with my work. That's a priority, improve."
In what could come as a setback for Chelsea, it was reported that 26-year-old vice-captain of Brazil national team, David Luiz, has reportedly refused to discuss his future plans in Chelsea, hinting that he is ready to leave Stamford Bridge. Rumours are rife that clubs like Barcelona and Napoli are interested in signing him.