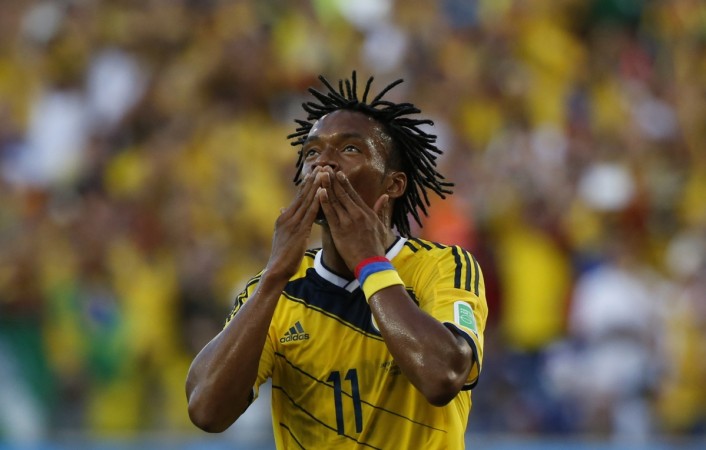 Chelsea are reportedly set to complete the signing of Colombia winger Juan Cuadrado from Fiorentina, although the transfer is still dependent on the Blues reaching an agreement to sell German forward André Schürrle to Wolfsburg.
The 26-year-old Chilean, who was at Stamford Bridge during Chelsea's 1-1 draw against Manchester City on Saturday, has passed a medical ahead of his potential move to the West London based club, according to the Daily Telegraph.
The report further added that Chelsea have agreed to pay an initial transfer fee of £23.3 million (that could rise to £26.8 million based on his performances), with Egyptian winger Mohamed Salah poised to go the other way on loan until the end of the season.
Cuadrado, who will reportedly sign a four-and-a-half year deal at Stamford Bridge, will be able to feature during Chelsea's English Premier League clash against Aston Villa on Saturday if the Blues manage to complete the move before deadline day.
Arsenal legend Thierry Henry feels that Chelsea strikers will benefit from Cuadrado's move to Stamford Bridge.
"Everybody saw the World Cup, the way he performed – he's a special player," Henry told Sky Sports.
"He can beat anyone at any time and he's a proper winger also – that's something you don't see often now, guys that want to go down the line and beat people and cross.
"That's what you want if you're a striker, so I think he will be – if he comes to Chelsea – a special player."
However, the Colombian's move to Chelsea will only materialise if the Blues manage to reach an agreement to sell Schurrle to Bundesliga side Wolfsburg.
This is because the Blues will need to sell a current player before signing a new one in order to adhere to UEFA's Financial Fair Play regulations.
And things are not looking very good as Wolfsburg sporting director Klaus Allofs claims that his side and Chelsea have still "not reached an agreement" over Schurrle's transfer.
Although the German's agent, Ingo Haspel had claimed last week that the transfer "should go through on Friday", Chelsea and Wolfsburg are still reportedly negotiating the transfer fee.
According to German publication Bild, Chelsea are demanding a transfer fee of £25 million for the World Cup winner, but the Bundesliga club are only prepared to pay £22.5 million.
"We have not reached an agreement at the moment," Allofs told Wolfsburger Nachrichten. "Time is running out, and there are less and less options from hour to hour."