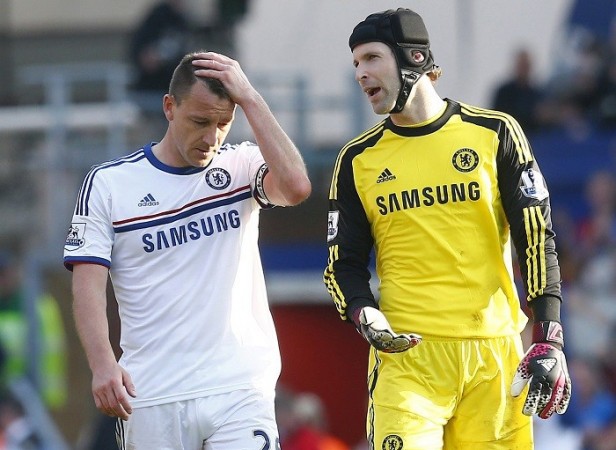 Chelsea goalkeeper Petr Cech is reportedly being pursued by big spending French sides Paris Saint-Germain and Monaco, according to the player's agent.
Although Cech has been the undisputed number one goalkeeper at Chelsea for the last nine seasons, he will certainly be getting some stiff competition from Thibaut Courtois, who is expected to return to Chelsea following a successful three-year loan stint at Atletico Madrid.
Due to this reason, Paris Saint-Germain and Monaco are reportedly looking to lure Cech, who shared the Premier League Golden Glove with Arsenal's Wojciech Szczęsny by keeping 16 clean sheets last season, out of Stamford Bridge this summer.
"Paris Saint-Germain have shown interest and we have also communicated with Monaco," Cech's agent Viktor Kolar told told Czech Republic newspaper Aktualne.
However, Kolar insists that Cech is happy to stay at Stamford Bridge as long as the club want him to.
"Nothing changes. He has two years left on his Chelsea contract and has an interest to continue there. Mourinho did not tell him that he would not count on him anymore. We have not been given any signals that Petr would be made available [for transfer]."
Still if Chelsea were to let Cech go, Kolar claims that only a handful of clubs – including Real Madrid, Barcelona and Bayern Munich – would be able to afford his client's salary.
"If that was the case, though, you have to realise that Petr is one of the world's top goalkeepers and has a certain salary. There are not many clubs who could afford to sign him. If he were to leave, we're discussing two or three clubs in the world."
"I would get in touch with [Andoni] Zubizarreta [at Barcelona] and people at Real Madrid. These are clubs we would consider if Chelsea wanted to get rid of Petr. We would also consider Bayern but they have [Manuel] Neuer there. Then there are leagues Petr would not go to, for instance, Serie A, because clubs in that league have problems."
Nevertheless Kolar says that Cech's family is "satisfied living in London" and the Czech goalkeeper is hoping to get a coaching job at Chelsea once his playing career is over.
"Petr isn't 20 [years old] any more. His family are satisfied living in London. Petr is satisfied at Chelsea and there is interest in his services even after his active football career, so that they would want him to continue in some position at the club."