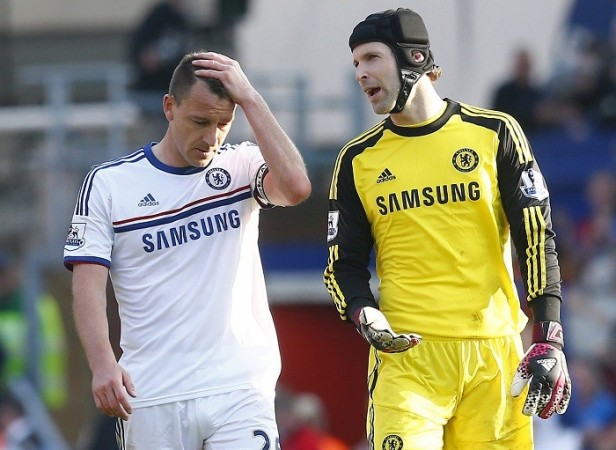 Petr Cech may be departing Stamford Bridge this summer as Jose Mourinho looks to offload one of the foreign players in the Chelsea squad in order to meet the Premier League's restrictions of only 17 overseas players over the age of 21 in a 25-man squad.
The Blues, who currently have 18 foreign players after the addition of Didier Drogba, have been hoping to sell their £50 million flop striker Fernando Torres.
Despite clubs including Atletico Madrid and Monaco being interested in the former Liverpool striker, they are unwilling to spend £20 million and £175,000-a-week on the Spaniard.
And if Chelsea are unable to sell Torres, they will be forced to sell their goalkeeper Petr Cech, according to the Telegraph.
Despite being on the top of his game for the last decade, the 32-year-old shotstopper has become expendable at Stamford Bridge following the return of Thibaut Courtois, who spent the last three seasons on loan at Atletico Madrid.
Although Cech insists that Courtois' addition does not threaten him, and he will be "staying at Chelsea" this summer, Mourinho may be forced to sell him if other transfers do not work out.
"From the group you are expecting us to have as a squad, I have to send one away because we have one extra foreign player," Mourinho said. "So from all these players, if you think all of them have to stay, you are wrong. One of them has to go."
Meanwhile, Mourinho says that four Chelsea academy players – Lewis Baker, Izzy Brown, Dominic Solanke and Jeremy Boga – will be given a chance to train with the senior squad this season.
"Baker, Brown, Solanke and Jeremy Boga. These four are not going to be in my squad because I cannot have 30 in my squad, but these four are going to work with us all season and these four are going to be Chelsea players," added Mourinho.
The Portuguese, who feels that Chelsea's academy is finally producing quality players, is certain that these players are going to do well at both the club and international level.
" I have this feeling that our academy is bringing players to our level. These three are English - Brown, Solanke and Baker - they have to be Chelsea players and they have to be national team players. They have to," he added.