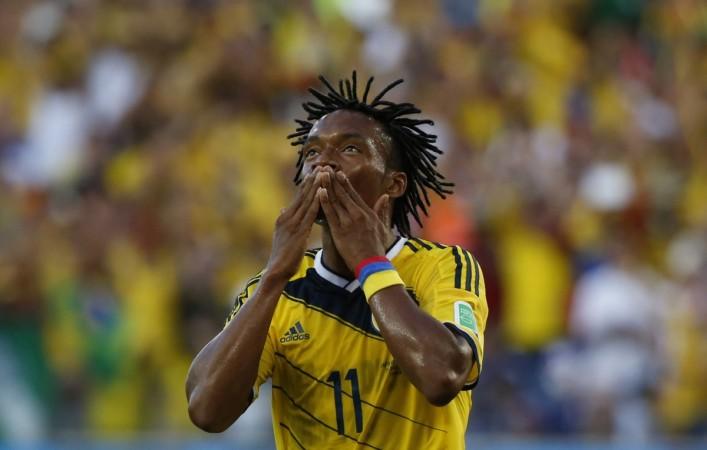 Chelsea are reportedly looking to beat Manchester United to winger Juan Cuadrado's signature by making a player plus cash offer to Fiorentina for the Colombian.
Although United, who have said that they will not hesitate in making big bids to achieve their transfer targets this summer, have reportedly made a £36 million offer for the 26-year-old winger, it is believed that Fiorentina are more interested in doing business with the Blues.
This is because the Serie A side are reportedly interested in Chelsea midfielder Marko Marin, who was very impressive as Sevilla lifted the Europa League last season.
The West London club will be happy to include the German in the deal as he is currently only a fringe player at Stamford Bridge, having failed to establish himself following his arrival from Werder Bremen in the summer of 2012.
Despite already having a number of star players in their midfield, Jose Mourinho is reportedly eager to bring Cuadrado to Stamford Bridge due to his versatility.
The Portuguese boss, who likes players who are capable of attacking as well as defending, was reportedly impressed after watching the winger with Colombia in the 2014 World Cup.
And now, according to the Express, the "Special One" is bent on securing the Colombian's signature this summer.
Considering United are willing to pay £36 million for Cuadrado, Chelsea will probably have to make a bid of at least £26 million if they include Marin in the deal.
Meanwhile, Real Madrid are reportedly lining up a £10million bid for Chelsea goalkeeper Petr Cech, according to the Express.
Despite the 32-year-old being in top form for the last ten years, his first team spot has come under threat following the return of Thibaut Courtois from a three-year loan spell with Atletico Madrid.
Also, as Chelsea are currently looking to offload an overseas player due to them exceeding the Premier League's quota of only 17 foreign players in a squad, Real Madrid are looking to snap up Cech on the cheap.
However, Mourinho has not said anything about selling Cech, insisting that he wants both the Czech international as well as Courtois to fight for their spot in the first team this season.
Still, the Portuguese may be willing to use Cech as a makeweight in his attempts to sign Real Madrid's 21-year-old defender Raphael Varane.