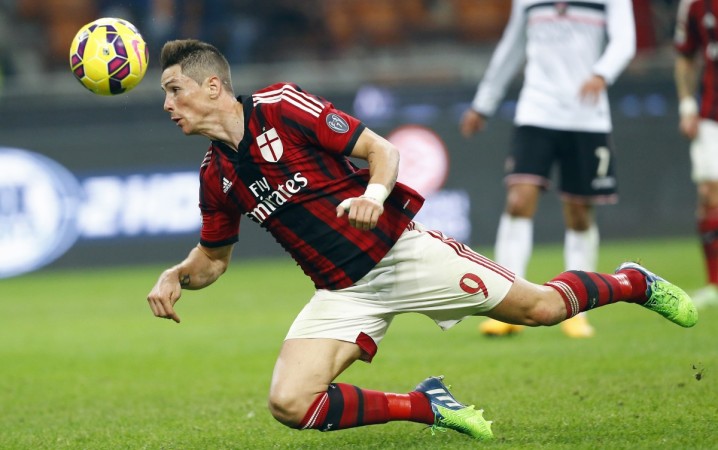 Chelsea will reportedly be offering Fernando Torres for free, if AC Milan decide to cancel the Spanish striker's long-term loan deal.
The 30-year-old striker, who cost Chelsea a whopping £50 million in January 2011, joined AC Milan on a two-year loan deal this summer after failing to impress at Stamford Bridge.
Although Milan, who are paying Torres a salary of £3.1 million per season, were initially very optimistic about the Spaniard finding success in Italy, they are now reportedly looking to cancel the Spaniard's loan deal as he has been very disappointing for them, managing to net only one goal from nine Serie A appearances so far.
As Chelsea already have the likes of Diego Costa, Loic Remy and Didier Drogba in their squad, Torres would prove to be surplus at Stamford Bridge.
Due to this, the Blues are reportedly mulling over offering Torres for free if his Milan loan is cancelled.
Earlier it was believed that Atletico Madrid were interested in signing Torres on a loan deal, but they have now reportedly cooled their interest after watching the Spaniard struggle to find form at Milan.
Meanwhile, Chelsea have become the first Premier League club to sign the living wage, meaning that the club will now pay all its staff at least £9.15 an hour if they are residing in London and £7.85 an hour if they are staying outside the capital.
"We believe the move to the living wage underlines our commitment to ensuring that all our employees receive a fair rate of pay for their hard work and dedication. Quite simply, it is the right thing to do," Chelsea chairman Bruce Buck told BBC.
Boris Johnson, the Mayor of London, feels that the Blues have done the right thing by signing living wage contract.
"They realise their team is more than just the 11 men out on the pitch, and that by putting more pounds in the pockets of their staff they are signing up to a win-win scenario that rewards a hard day's work with a fair day's pay for everyone."