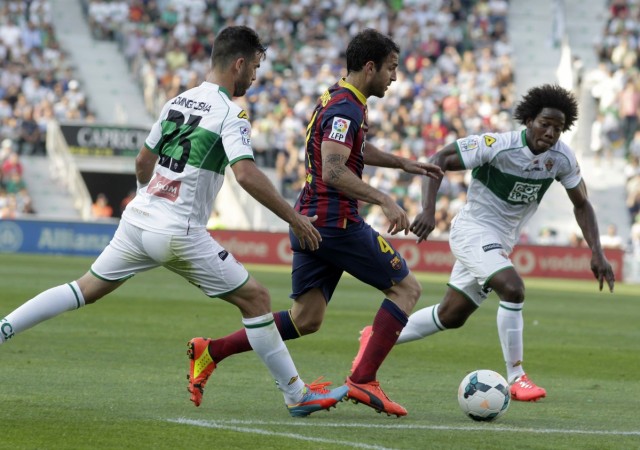 Chelsea are the latest English Premier League club to be linked with Barcelona midfielder Cesc Fabregas, after the likes of Liverpool, Manchester City, Manchester United and Arsenal.
Although Chelsea have a strong midfield due to the presence of Eden Hazard, Oscar, Willian, Nemanja Matic, the Blues reportedly want Fabregas as a long-term replacement for Frank Lampard, who confirmed he will be leaving Stamford Bridge after the expiration of his contract.
The Blues are in a very good position to sign the 27-year-old midfielder after their rivals Arsenal recently indicated they were not going to use the buy-back option to re-sign their former captain, who has been reportedly shown the door by Barcelona.
While Manchester United, Manchester City and Liverpool have also linked to Fabregas, they are understood to be busy with their other summer transfer targets.
The Blues were initially believed to be interested in Atletico Madrid's Koke. However, after the 22-year-old midfielder indicated he was keener to move to Barcelona, Chelsea have reportedly turned their attention to Fabregas.
According to the Telegraph, the West London club are looking to seal the Fabregas deal for around £30 million. The Blues reportedly want the former Arsenal captain to play alongside, Nemanja Matic in the holding midfield position, now that David Luiz and Lampard are set to leave Chelsea.
Also, Chelsea are keen on getting the Spaniard due to his vast experience in the Premier League, where he made 212 appearances during his eight-year stint with the Gunners.
However, Chelsea boss Jose Mourinho and Fabregas will first need to bury the hatchet following their well publicised spat last season.
Mourinho had criticised Barcelona ahead of their quarterfinal clash against Manchester City, saying that the Citizens would be facing "the worst Barcelona of many, many years."
In reply, Fabregas had asked the Portuguese to "shut up" saying: "Some people were talking a bit too much before the game and now they have to shut up for a few days."
Apart from Fabregas, the Blues are reportedly close to signing Atletico Madrid trio Diego Costa, Tiago Mendes and Filipe Luís for a combined fee reported to be around £51m.
There were also talks of Chelsea being interested in signing Bayern Munich striker Mario Mandzukic, who is expected to leave the Allianz Arena now that Borussia Dortmund's Robert Lewandowski is set to arrive.