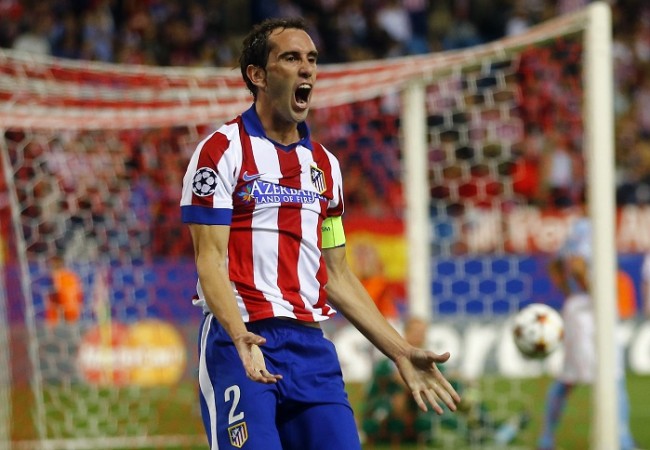 Chelsea are reportedly considering making a move for Atletico Madrid's Diego Godin even though it is believed that Real Madrid centre-back Raphael Varane is Jose Mourinho's primary target this summer.
The Blues are right on course to win their first Premier League title in five years due to them being seven points clear with a game in hand at the top of the table.
One of the main reasons behind Chelsea's success this season is their solidarity at the back, with them having conceded only 26 goals in the Premier League so far.
However, Mourinho is reportedly keen to further reinforce his squad's backline to boost Chelsea hopes of winning the Champions League next season.
Also, Chelsea are reportedly looking to a long-term replacement for their ageing centre-back John Terry. The 34-year-old signed a one-year extension in March following his excellent performances this season. But he is expected to retire in the near future.
As a result Mourinho is reportedly keen to get a new centre-back this season, with Real Madrid's 21-year-old defender Varane believed to be his primary target.
However, Madrid are reportedly adamant on keeping Varane, who is considered a future star, at the Bernabeu, and Chelsea are reportedly looking targeting Atletico Madrid's as a possible alternative if they fail to land the young Frenchman.
The 29-year-old Uruguayan, who is also considered to be one of the world's best defenders, reportedly has a £28.5 million buy-out clause on his current contact, due to expire in 2018.
Manchester United are also believed to be interested in landing Godin, who has played a key role in helping Atletico win the La Liga title and reach the finals of the Champions League last season, this summer.
But Chelsea are confident that the Uruguayan, who has also been in fine form this season, will want to come to Stamford Bridge and link up with his former teammates Diego Costa, Filipe Luis and Thibaut Courtois.