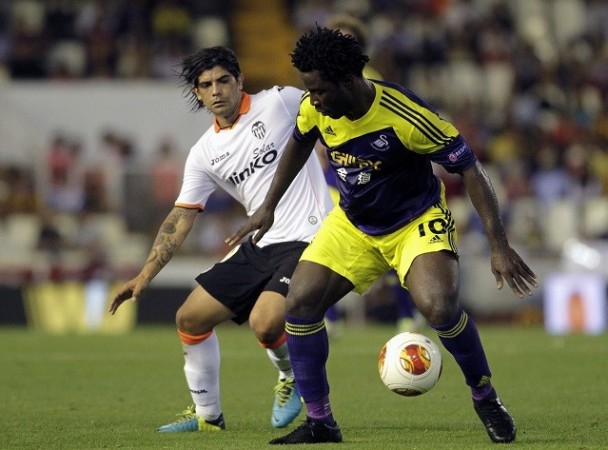 Wilfried Bony has attracted interest from a number of top clubs across the English Premier League, including Cheslea and Manchester City.
Real Madrid have also reportedly shown some interest in the Swansea striker as well.
The Ivory Coast striker is aware of the interest from such high-profiled clubs and is keen on January move to a Champions League team.
As per the reports of the Daily Telegraph, the Swans striker has told his club about his keenness to quit the club and join another one, which offers him champions league football.
The player has been heavily linked, for he has been in red hot form and is one of the best strikers playing his trade in the league this season.
His rich vein of goal scoring form has been a major reason for teams such as City and Blues lining up a potential move.
If Swansea decides to allow Bony leave the club, they are in a good situation, as they can conduct good business, for they do not have any release clause now, after the club cleared the £19m release clause in his previous contract.
With City and Chelsea being two of the richest clubs, the Swans could easily make them pay around £30 million or more. Surprisingly, both the clubs have a number of strikers at their disposal, but they are still keen on bolstering the squad.
Chelsea already have strikers such as Didier Drogba, Diego Costa and Loic Remy, but with Drogba past his prime and with rumours on Drogba's future, it would be a smart move if the Blues manage to sign Bony.
Imagine a foward line comprising of Costa and Bony. They have all the ammunitions in them to rip apart the opponent's defense. Costa has already proven himself in the league, scoring goals for fun, but would Bony walk into the Chelsea team as smoothly as Costa?
Bony's move to Chelsea, if it does take place will be an upgrade, so there will be huge expectations from fans and his club alike.
The situation would be the same if he decides to join the Citizens as well, for they too have a number of strikers at their disposal.
Would he even get a chance to play for City? Such are the quality of strikers, including Sergio Aguero, Stevan Jovetic and Edin Dzeko.
But with Bony's desire to play in the champions league, Liverpool have been left in the cold, for they have already been knocked out of the competition and are lagging behind the race for the champions league spot in the ongoing domestic competition as well.