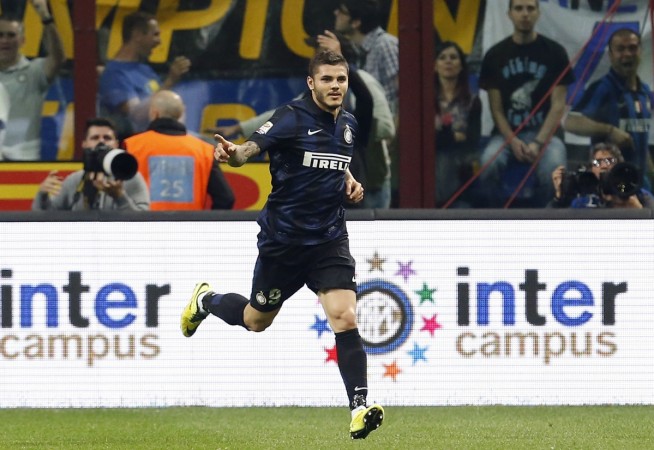 Chelsea have reportedly been boosted in their attempts to sign Inter Milan striker Mauro Icardi after the Argentine is said to have reached a stalemate with the Serie A side while negotiating a contract extension.
Although the Blues have two excellent attackers in the form of Diego Costa and Loic Remy, they are believed to be keen on landing a new striker to replace the aging Didier Drogba this summer.
Chelsea are being linked to a lot of strikers, and Icardi is one possible candidate that the Blues think is capable of filling the shoes of Drogba.
The 22-year-old, who completed a move from Sampdoria to Inter Milan for an undisclosed transfer fee in the summer of 2013, has been very impressive this season, with 18 goals in 32 Serie A appearances so far.
Although his excellent form has attracted the attention of many clubs this season, Inter Milan are keen to hold on to the Argentine, with manager Roberto Mancini regarding him as a key member of the squad.
As a result, Inter Milan had been eager to tie Icardi, who has three more years remaining on his current contract at San Siro, down on a new deal in order to discourage other clubs from making a move for the striker this summer
However, according to the Metro, the Serie A side and the Argentine have reached a stalemate in their discussions over a new deal, and Chelsea are ready to pounce.
The main reason behind the striker wanting to leave Inter Milan this summer is believed to be his desire to play in next season's Champions League.
And since it does not look like Inter Milan, who are currently eight in the Serie A, will even qualify for the Europa League, Icardi reportedly wants out.
It is believed that the Blues, who have successfully captured the Premier League title for the first time in years, will have to pay around £22.1 million for the services of the young Argentine.
The addition of Icardi would certainly make the Blues even stronger in 2015/16 as Jose Mourinho next eyes the Champions League crown.