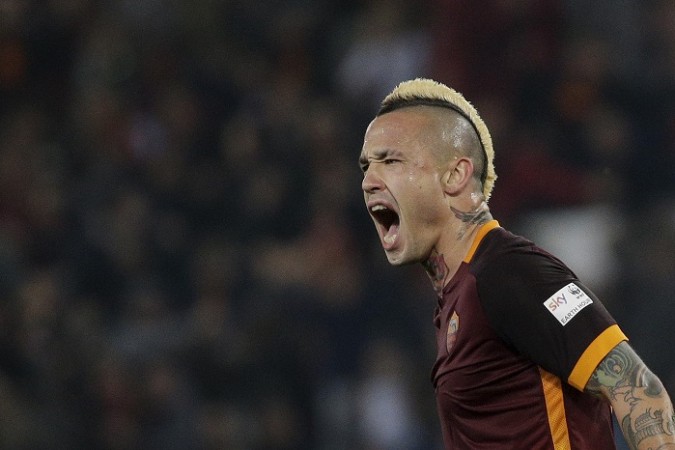 Antonio Conte looks to have notched his first signing as Chelsea manager, with the English Premier League side reportedly agreeing a deal to sign Roma midfielder Radja Nainggolan. The Belgium international is thought to be Conte's No.1 target for the summer transfer window.
With Chelsea starting with another new manager next season, it is crucial to have the team that the Italian has in mind ready to go for preseason. Considering that, Chelsea have already begun talks with the players Conte has identified, with Nainggolan right on the top of that list.
According to the Daily Mirror, after talks with Roma over the past two days, Chelsea have come to an agreement over the sale of the 27-year-old for a fee of around £28 million ($40 million).
Nainggolan has also agreed a five-year contract with Chelsea and the move could be made public soon, according to the report. Conte sees Nainggolan as the man to run Chelsea's midfield next season.
Conte also reportedly wants to be reunited with Juventus defender Leonardo Bonucci, and the Italian defender fuelled the rumours of a possible exit from Turin by refusing to rule out a move to Stamford Bridge when the summer transfer window opens come the end of this season.
When asked if a move to Chelsea was possible, Bonucci said: "I haven't said anything yet, the question hasn't been asked so I can't say either yes or no."
Apart from Nainggolan and Bonucci, Conte has also reportedly targeted Mauro Icardi, Paul Pogba, Miralem Pjanic and Edinson Cavani.
The players who could leave in the summer include John Terry, the captain who hasn't been given a new contract, and Oscar, who has been linked with a move to Juventus.
Diego Costa has also been tipped for a move back to Atletico Madrid, while Eden Hazard, after an underwhelming season, continues to be linked to the likes of Real Madrid and Paris Saint-Germain.