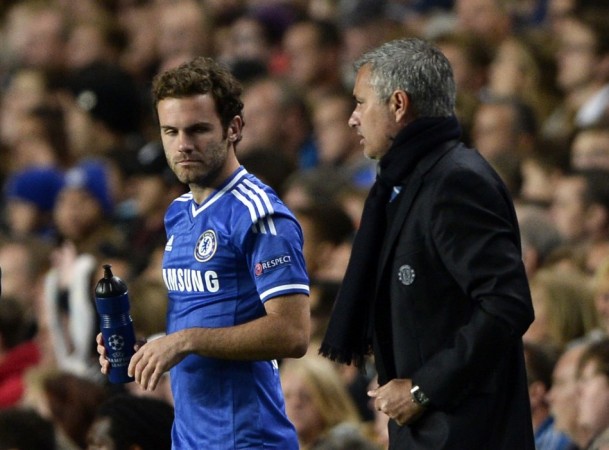 Tottenham manager Andre Villas-Boas admitted making a move for Chelsea playmaker Juan Mata in the summer transfer window, while opening up on the reasons behind the break up in his relationship with Jose Mourinho.
Mata was the subject of a few bids from clubs towards the end of the summer transfer window, with it becoming apparent that Mourinho does not prefer the Spaniard in the central playmaking role behind the central striker.
However, Chelsea were never really going to allow Mata move to a rival English Premier League club, which is why the likes of Spurs, Arsenal and Manchester United could not complete a move.
"I suppose that it is a sign of evolution from Tottenham and our ambitions (that we can make a bid for Mata)," he said. "It is normal. Last year we were fighting for the same objectives in the end so I suppose they wouldn't like to strengthen a rival."
Villas-Boas, whose side welcome Chelsea in the Premier League on Saturday, was also pointing to the fact that the Blues swept Willian away from under the noses of Spurs, which at the end of the day is not that surprising a development in the transfer market.
The Tottenham manager, however, is surprised with the lack of playing time handed to Mata by Mourinho this season.
"It's not my decision to pick or not pick Mata, it was before," said the 35-year-old, who worked with Mata during his time as Chelsea manager.
"He was always involved in my starting XI, I have always enjoyed a great personal and professional relationship with Juan Mata but it's not my decision anymore.
"I suppose the time that he's not being given now, with the talent that he has he will overcome it and jump back into the team because he is that player, that special."
Villas-Boas was part of Mourinho's staff for quite a few years before going out on his own and finding success and the fellow Portuguese explained the reasons behind the decision with the pair set to lock horns for the first time.
"I don't lose any sleep," he said. "Our break-up point was because I was full of ambition to give him something extra and I wanted further involvement from the job I was doing at that time.
"I felt I could give him much more. But he didn't feel the need for somebody near to him or in another position as an assistant, and because of that it was decided that it was time, after Inter Milan, to continue our careers (apart).
"I don't think we need explanations. But our relationship broke down. I think we have the mutual respect for each other and we understand what we have been through cannot just disappear, but it's not like it was before."