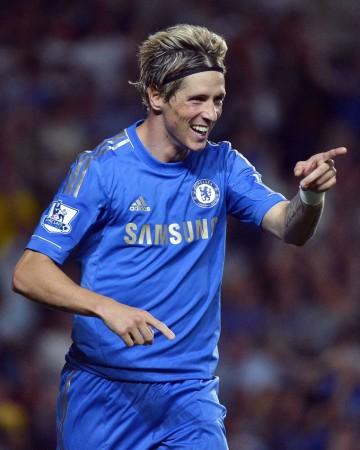 Chelsea FC has topped the Premier League table, starting the season in style with two consecutive wins. Fernando Torres' controversial goal put the Blues ahead of Reading on Wednesday's match, which they won 4-2.
Chelsea won the opener with a 2-0 win over Wigan Athletic on Sunday.
On Wednesday, Eden Hazard won a penalty after Chris Gunter brought him down inside the box, and Frank Lampard converted it into a goal. However, a goal each from Pavel Pogrebnyak and Danny Guthrie put Reading ahead 2-1.
Chelsea equalized with a goal from Gary Cahill. Fernando Torres sent the ball into the net from Ashley Cole pass in the 81st minute, making the score 3-2 in favour of Chelsea. Then Branislav Ivanovic scored in injury-time to make the final score 4-2.
Reading manager Brian McDermott was not happy with the loss to Chelsea, arguing that Fernando Torres' goal was clearly an offside.
"It's just a shame really," BBC quoted McDermott as saying. "I'm disappointed for the players. I'm gutted the linesman made a mistake. He's a clear yard offside. The linesman will be disappointed with himself, I'm sure."
He went on to say: "We felt there was something for us at 2-2 and we could have got another goal. I don't feel we deserved to lose the game. What you have to do is move on very quickly. I thought it was a great game. We've come to the European champions and put on a real performance and it shows we deserve to be here. We're trying our best to play the best football we possibly can. I told myself when I took this job we'd try and win games."
Chelsea beat Wigan Athletic 2-0 in their first match of the season.
With an aim to drastically transform Chelsea into an entertaining team following the transfer of Digier Drogba, manager Roberto Di Matteo signed Germany's winger Marko Marin, Belgium's forward Eden Hazard and Brazil's playmaker Oscar Dos Santos to fulfill club owner Russian billionaire Roman Abramovich's dream.
Russian billionaire Roman Abramovich, the owner of Chelsea, had earlier given a free hand to team manager Roberto Di Matteo besides giving £65m to his disposal to fulfill his dream of transforming the club into an entertaining one.
Chelsea had a good outing last season, winning both Champions League and FA Cup, but Abramovich seems to be dissatisfied with the play and the club has been criticized for negative play of late. They rely on counter attack to beat their opponents.
Chelsea had spent around £46 million in 2011 by signing Romelu Lukaku, Romeu, Juan Mata and Raul Meireles.