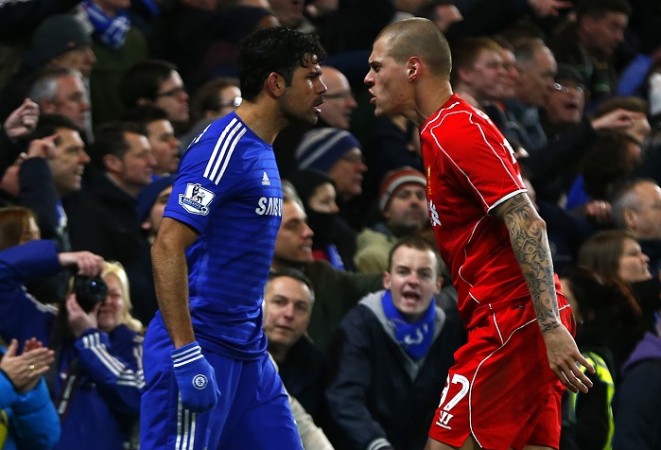 Chelsea striker Diego Costa insists that he "will not change" his physical style of play during matches despite his aggression recently earning him a three match suspension.
The 26-year-old was recently handed a three-match ban by the FA (Football Association) after he was found guilty of intentionally stamping on Emre Can during the Blues 1-0 win over Liverpool in the second leg semi-final of the Capital One Cup on Tuesday.
And although the Brazil-born striker claims that the stamp was an accident, he insists that he is not going to change his style of play.
"As far as what happened on Tuesday, the main thing is when I get home I can go home and I can go to sleep knowing that I've not done anything wrong, because I never meant to do that and it was not on purpose," the Spain international told the Daily Telegraph.
"You can clearly see that on the video. But it is a suspension. I have to accept that, I have to take it. Obviously I feel sad because I'm not going to be able to help the team, to play. But I have accept it and respect it."
"On the pitch I will always be like that. That's my character and I will always compete and compete - always. I'm a different guy off the pitch, as you can see, but on the pitch I will not change."
Costa, who has been very impressive since his £32 million switch from Atletico Madrid to Chelsea last summer, feels that he is having trouble adjusting due to the modern game losing its physicality.
"Back in the old days there used to be way more contact and a lot of things that were permitted. These days everyone is looking at it and I don't think that is good for the game," he added.
"I have a go at defenders and they have a go at me. We argue. Whatever happens on the pitch stays on the pitch. After the game I shake hands with the defender. Job done, I go home, he goes home."
"We're all mates. It's all good. That's how I see football. That's how I play football. I'm not going to change it – football is a contact sport."