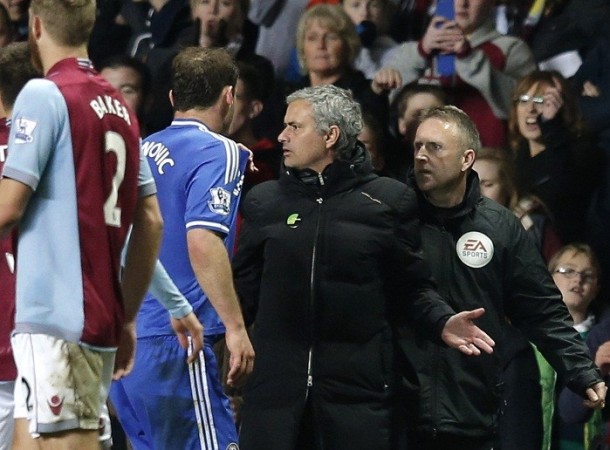 Ramires' horror tackle on Karim El Ahmadi during the English Premier League game between Chelsea and Aston Villa was a result of Chris Foy's poor refereeing, according to Jose Mourinho.
The Chelsea manager believes his midfielder would not have made the awful challenge, a tackle which could have easily broken El Ahmadi's leg, had Foy refereed the game in a positive manner.
The Chelsea players were left frustrated after Foy showed a second yellow card to Willian for impeding the progress of Fabian Delph a little earlier in the second half, with Delph then going on to score the winner to give Villa 1-0 win.
As Chelsea went in desperate search of an equaliser, Ramires lunged into El Ahmadi with his studs, catching the Villa man in the process with Foy left with little choice but to show a straight red card. The tackle sparked a mini pitch invasion from both benches, with Mourinho sent to the stands by Foy after the Portuguese came onto the playing area.
Mourinho made his displeasure over Foy's refereeing clear after the match, and the Chelsea manager reiterated his criticism, insisting Ramires would not have made the pathetic challenge had the conditions been more favourable.
"I am angry [with Ramires], but you know in football it's difficult to keep control of the emotions," said Mourinho, speaking ahead of Chelsea's Champions League last 16 second leg against Galatasaray.
"There are persons in the game who are responsible to help the players control their emotions and, sometimes, these people are the people who push the players to lose their control. "And I can't separate Ramires' tackle, which is a red card, I cannot separate that from the accumulation of frustration during the match.
"I feel that what happened in minute 92 was a consequence of the other 92 minutes we played before that. But that's just my opinion.
"People who play something -- they don't need to be professional, just competing for something -- they'd know exactly what I'm speaking about. So for me, is it a red card? Yes, it is a red card.
"Was it in the first minute? Was it minute 20 and completely out of context, where you don't know why the player did this? When you see the moment and what happened before that, you understand clearly.
"Or you don't understand, but I do. I understand clearly that a player can make a mistake. He made a mistake. He's going to pay for the mistake.
"I am happy because he is paying for the mistakes he makes, that's simple. There are people who make mistakes who don't pay for it. People turn their eyes to another side, they forget what happened, they do not want to see images.
"You know? It happens with many people in football. Ramires this season, he made one dive for a penalty [at Derby in the third round of the FA Cup] and got a yellow card. He made a bad tackle in the last game and got a red card. So when he makes mistakes, bump, he pays for the mistakes."
After the Villa loss Mourinho had requested Foy to be kept out of refereeing anymore Chelsea matches in the future, and while the request will not be taken into consideration officially, it is understood Foy is unlikely to be involved in any game involving the Blues for the rest of the season.
Mourinho will hope the referees do not come under the spotlight on Tuesday night at Stamford Bridge as Chelsea look to top Galatasaray to advance to the quarterfinals of the Champions League.