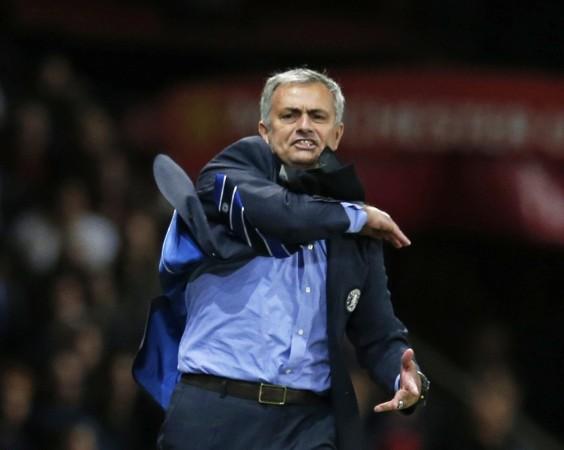 Chelsea boss Jose Mourinho has slammed the Blues fans for not being loud enough during his side's home matches at Stamford Bridge.
The 51-year-old Portuguese recently complained that Stamford Bridge sounded empty during the Blues' 2-1 win over Queens Park Rangers in their last Premier League fixture on Saturday.
All the other big clubs including Manchester United, Manchester City, Arsenal and Liverpool receive loud cheers from their fans at their respective stadiums, but Chelsea fans are known to be considerably quieter.
And Mourinho feels that the situation is "getting worse" and the Blues, who are currently at the top of the Premier League, are the only team that gets "less support in home matches."
"I can clearly say we are the team to get less support in home matches. It's getting worse. When comparing to my previous time, I think it's getting worse," Mourinho told ESPN.
Despite insisting that he does not question the fans' loyalty towards the club, he feels that the supporters are not loud enough during Chelsea's home fixtures.
"I don't question the passion and the love. I'm nobody to question that and I know clearly that's not true. Chelsea fans show us their passion for this club every day, but there is a certain line of living [way of behaving] at the matches at Stamford Bridge."
Meanwhile, Tim Rolls, the Chairman of Chelsea Supporters' Trust, feels that Mourinho was a little harsh in his criticism as he feels that the fans are showing a lot of support by spending a considerable amount of money to watch games at Stamford Bridge.
"I think the manager's criticisms were slightly ill-advised because the fans pay good money to watch highly paid footballers," said Tim Rolls.
Rolls also added that the high ticket prices are also the reason behind many of the Chelsea fans opting to watch the game at home or in a pub.
"On pricing, it's £50 a game, give or take. So an awful lot of young people can't afford to go very often, clearly."
Rolls also added that the signing and chanting at Stamford Bridge has diminished due to the home fans being forced to sit and watch the game.
"Home fans are made to sit down, but away fans can stand up. Home fans who do stand up and sing at the Bridge have received letters from the club saying a repetition could mean their season ticket or membership being revoked. That doesn't help."
Finally the Chelsea Supporters' Trust's chairman feels that the club needs to encourage the young fans to attend the games.
"The average age of Chelsea supporters attending home games these days is over 40 - it's nearer 50 where I sit - and that is the case at a lot of Premier League grounds."
"We need to somehow be encouraging the 16-25s to come and the only way we can do that is price tickets accordingly, and allow them to congregate together in a 'singing section'."